South China Morning Post
April 24, 2005
| | |
| --- | --- |
| | |
| Ethnic Mongolian director Ning Cai (Xin Hua News) | |
Byline: Actor-turned-director Ning Cai hopes his latest film will draw the government's attention to the plight of Mongolia's horsemen, writes Richard James Havis.
A thoughtful study of a Mongolian horseman dealing with the problems of modernisation, Season of the Horse is the kind of small-scale film that doesn't come along often. Made at the Inner Mongolia Film Studios by award -winning mainland actor Ning Cai, it's touching without being sentimental, exotic without insulting its characters, and socially aware without being polemical.

Despite its obscure-sounding subject matter, it's a warm and moving film that succeeds on just about every level - probably because its director had more than just a pay cheque at stake. Although Season of the Horse can be enjoyed purely as entertainment, the Mongolian-born Ning made the film to draw international attention to the suffering of his countrymen.

Ning's story revolves around the problems facing nomadic Mongolian horsemen because of the Chinese government's plans to urbanise the region. The vast Mongolian grasslands used to be free land, so the horsemen could move around and graze their livestock at will. But the government has recently been fencing off the land and parcelling it out to villages. The horsemen are being encouraged to give up their traditional nomadic way of life and settle down. The problem is that they don't have the necessary skills - or the desire - to take up an urban lifestyle. They're not used to being confined to one place, and they don't have any training they can use in the cities. This is leading to mass despair.

Ning tells the story by concentrating on the difficulties of a herdsman called Wurgen - who he plays in the film - and his hard-pressed wife. Government regulations are making it difficult for Wurgen to make a living in the age -old way of herding livestock. His wife wants him to sell his loyal old horse and use the cash to send their young son to school. He refuses, wishing to cling to the ancient ways that he loves. Finally, he succumbs to his wife's wishes, but is then outraged to see the horse being used in a stage performance at a disco. Wurgen reclaims his horse with the help of an artist who paints Genghis Khan memorabilia, but ultimately has to give up his traditional way of life and search for another way of getting by.

"The people on the grasslands have been living a nomadic life for centuries - they're a migratory nation," Ning says at the Rotterdam International Film Festival, where Season had its world premiere. "Each season, they move from place to place in search of new pastures. Basically, they move to where the healthy grass is. But now a combination of political and natural developments is taking away their relationship with the land."

"The Mongolian people are herdsmen - they make a living by herding sheep and cattle. But the Chinese Han people who have been moving into their lands are agriculture-based. They grow grain, corn, wheat and potatoes. This is very bad for the land, because the Mongolian plains aren't suitable for this kind of farming. If you till the soil in Mongolia, you erode it. The great Mongolian plains are now starting to turn into a desert."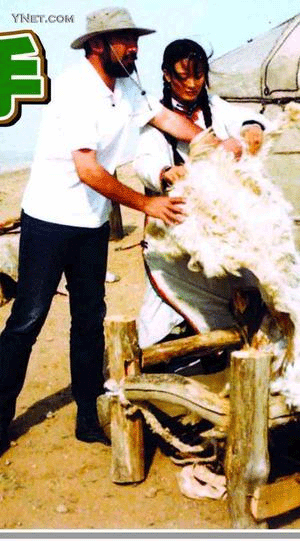 Land ownership is another problem, says Ning. The Chinese government is starting to parcel up portions of the plains and allot them to nearby villages. The land is now administered and controlled by village councils. Fences have sprung up, limiting the horsemen's freedom of movement. "Nobody used to own the land in Mongolia," says Ning. "You were free to graze your animals where you needed to graze them. Nomadic cultures don't have a culture of land ownership, and don't really understand it. But the lands have now been divided. Each household - each yurt - has been given a limited space to call its own. The horsemen are told to fence off their land, which confuses them. There's no freedom for people to move around any more. They have to stay put. The government wants people to settle down and stay in one place. I'm not saying that they're deliberately intending to destroy Mongolian culture - they might genuinely think that this is progress for us. But our traditional lifestyle is dying out as a result."
In Season of the Horse, Wurgen's wife tries to make ends meet by cooking for a traditional Mongolian restaurant in a nearby city. But she's confused that she has to change her age-old recipes to make them palatable to the Han city -dwellers. Wurgen has no sense of how to survive in the city. Once he's parted from his horse, he becomes impotent. "The nomads are being forced to give up their traditional way of life and move to the cities," says Ning. "Some of the young people are quite happy. But most of the horsemen are devastated. They don't know how to work there - they're horsemen. It's a very sad situation."

Wurgen's trusty horse is a metaphor for the Mongolian race, says Ning. The old horse just plods along, trying to understand the things that are happening around him. "Horses are very important to the Mongolians," says Ning. "The horse is very symbolic. They're more than just animals who work - they're companions. The horse in my film is beautiful. It's such a loyal old horse. It implies the situation of the Mongolian people today. We're a group of people who have a great history and have done many great things. But now we're ageing and our civilisation seems to be near death."

Ning is an affable fellow who carries his many worries with dignity. He graduated from the Shanghai Drama Academy - China's top acting school - in 1986, and achieved recognition in a stage production called Black Stallion. He's acted in 40 different roles on stage, screen and television, and won the mainland's top film prize, the Golden Rooster, for Grasslands.

More interested in the fate of his homeland than his material success, he went back to the Beijing Film Studio a few years ago to learn directing. His aim was to use this skill to regenerate Inner Mongolia's film industry. Since then, he has taken charge of Inner Mongolia's official film studio, where he hopes to make more socially conscious films along the lines of Season.

"My main hope for this film is that the government will see it and understand the problems of the horsemen on the grasslands," he says.

"But there's also a message for the Mongolians. We have a great history in Mongolia, but sometimes we think too much about that. It has become a burden for us, and it holds back our progress. We are a race that seems to have decided to live in the past - we seem to feel that our greatest days are behind us. But if we're to survive, we have to start to look to the future as well. We have to look at what's around us now."

Season of the Horse is a good place to begin that search.

GRAPHIC: (Photo: Felix Kalkman); Actor and director Ning Cai (top) has impressed critics with Season of the Horse (above)

<![if !supportLineBreakNewLine]>
----------------------------------------------------------<![endif]>
<![if !supportLineBreakNewLine]> <![endif]>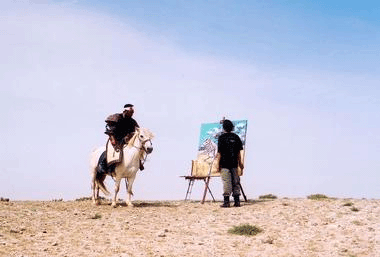 Season of the Horse

Cinema Series

http://www.aviff.com/csschedule.html

Season of the Horse is an eloquent and timely tale of lives in transition as proud Mongolian herder, Wurgen, is forced to deal with the encroachment of urbanity and progress on his home and traditional way of life. Despite parched grasslands and pressures from both the personal and political spheres, he struggles to keep his flocks and his horse—the essential symbol of his liberty and legacy. Season of the Horse is the directorial debut of Mongolian-Chinese actor Ning Cai who also stars as Wurgen in this film that powerfully illustrates the contemporary crisis threatening both individual families and an entire civilization in a manner that is both artful and wholly entertaining. AVIFF is excited to welcome director-star Ning Cai and producer-star Na Renhua for the US Premiere of Season of the Horse.

<![if !supportLineBreakNewLine]> ------------------------------------------------------------<![endif]>

<![if !supportLineBreakNewLine]> <![endif]>

Season of the Horse (Ji feng zhang de ma)

International Film Festival Rotterdam http://www.filmfestivalrotterdam.com/en/film/34559.html

The traditional way of life of a proud herder and his trusty horse on the Mongolian steppes is threatened by increasing drought and unstoppable bureaucracy. Beautifully photographed myth of demise is a requiem for a disappearing culture.

Mongolian shepherds, once the proud symbol of an age-old nomadic culture, are today embroiled in a bitter struggle to maintain their traditional existence. Among them is Wurgen, who has to look on as the continuing drought dries out the steppes and as modern civilisation advances with its laws, rules and barbed wire. He is not able to keep enough grazing sheep to maintain his wife and child and beloved old horse. Moving to the city, like so many others, is not an option for him. He becomes involved in conflict with friends, neighbours and authorities and, when his wife puts pressure on him to earn money for their child at school, the proud shepherd refuses: he would rather die than sell yoghurt by the roadside or get rid of his trusty steed. But Wurgen no longer has his own fate in his hands. The well-known Mongolian-Chinese actor Ning Cai, making his début as director with Season of the Horse, himself plays the lead of the tragic, stubborn shepherd. Na Renhua, also the producer, provides a convincing portrayal of his more practically oriented wife. Ning beautifully depicts the destructive effects of modernisation and drought on the traditional lifestyle on the endless Asian steppes, but does do unsentimentally in this classic drama of decline. A requiem for a way of life. (GT)

Film or films screened at the International Film Festival Rotterdam.

NING Cai (1963, Horqin-district, Mongolia) graduated in Acting from the Shanghai Drama Academy and went on to perform in a number of stage plays, films and TV shows. He received the Plum Blossom Award, China's top dramatic prize for theater. In 1998 Cai graduated in directing from the Beijing Film Academy. Season of the Horse is his feature début as a director.