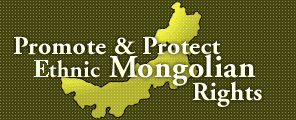 To gather and distribute information concerning Southern (Inner) Mongolian human rights situation and general human rights issues;

To promote and protect ethnic Mongolians' all kind of rights such as basic human rights, indigenous rights, minority rights, civil rights, and political rights in Southern Mongolia;

To encourage human rights and democracy grassroots movements in Southern Mongolia;

To promote human rights and democracy education in Southern Mongolia;

To improve the international community's understanding of deteriorating human rights situations, worsening ethnic, cultural and environmental problems in Southern Mongolia;

Ultimately, to establish a democratic political system in Southern Mongolia.


SMHRIC statement at "Resist Xi Jinping - Dictator of Unfree World"



... Today, we Southern Mongolians, Tibetans, Uyghurs, Taiwanese and Chinese are here to express our strong protest to the Chinese Government and the Chinese leader Xi Jinping as the United Nations General Assembly is being held here in this building behind us. As you all know China is a colonial power that invaded and colonized Southern Mongolia, Tibet and East Turkistan. And the Chinese regime is an authoritarian regime that not only oppresses the people of these occupied nations but also oppresses their own people, and even is extending its long arm to Taiwan and beyond. Today, we talk about terrorism. We talk about ISIS. We talk about extremism. But, the world is still indifferent to what China is doing to the Southern Mongolians, Tibetans, Uyghurs, and Chinese themselves. Don't forget, the Chinese regime or the Chinese Communist Party is the largest terrorist organization on earth that is oppressing one quarter of the world's population. Citizens of China have no basic human rights, no fundamental freedoms! Mongolians, Tibetans and Uyghurs are arbitrarily arrested, imprisoned and killed for just being who ....

<details>...

CERD China review questions and concluding observation excerpts regarding Southern Mongolia



... ethnic minority government officials and communities and provide financial allowances that ensure an adequate standard of living, as well as livelihood restoration measures and, where needed, linguistic and cultural integration assistance. Ethnic Mongolians, 45. The Committee is concerned by reports of abuses by State authorities against ethnic Mongolians peacefully protesting against the confiscation of land and development activities that have resulted in environmental harm. The Committee is also concerned by reports of a significant reduction in the availability of Mongolian-language public schooling (arts. 2 and 5). 46. The Committee recommends that the State party ensure the ability of ethnic minorities to safely conduct peaceful protests, and investigate and sanction any allegations of abuse or harassment during such incidents, whether inflicted by private or State agents. The Committee also recommends that the State party ensure the availability of Mongolian-language public education for ethnic Mongolians, including those residing outside of the Inner Mongolia Autonomous Region ....

<details>...

Specific cases of China's violation of rights of the Mongolians



... China's adoption of two sets of policies in rural Mongolian areas, namely "Ecological Migration" and "Total Ban Over Livestock Grazing", are based on the ideas and theories of Chinese cultural superiority over Mongolian traditional nomadic way of life. All Chinese propaganda apparatus promote ideas and theories that Mongolian traditional nomadic way of life is "backward, archaic, crude, unscientific and uncivilized" way of life that need to be replaced by the Chinese way of life which is "advanced, rational, scientific and civilized". Based on these Chinese supremacy ideas and theories, these two sets of policies have been implemented since 2001 to eradicate Mongolian nomadic civilization once for all. (See SMHRIC Full Submission, Item 9-20). The Chinese Central Government State Council states on its website that the Government's 12th Five-Year Plan aimed to resettle the remaining nomad population of 246,000 households or 1.157 million nomads by the end of 2015. The socio-economic and political purposes of the plan were "to accelerate the development mode shift of animal husbandry and grassland eco-system ....

<details>...

Detention of Southern Mongolian author is putting historical inquiry on trial



... NEW YORK—The detention of Southern Mongolian author Lhamjab A. Borjigin under expected charges of "separatism" and "sabotaging national unity" is an attack on both literary freedom and historical research, PEN America said today.Historian and author Lhamjab A. Borjigin, from Southern Mongolia, was reportedly detained on July 11. Days later, he was informed that prosecutors intended to charge him with separatism and sabotaging national unity. The charges are apparently related to Borjigin's work as a historical researcher and writer specializing in testimonies of the Cultural Revolution. Separatism charges can result to up to fifteen years in prison. Borjigin has rejected the charges pending against him, saying that he has only written the historical truth. In an interview with Radio Free Asia, Borjigin explained that he has told authorities "this was the truth about the Cultural Revolution . . . I was seeking truth from facts, and where was the crime in that?" Borijigin, 74, is the author of several books on Mongolian history. His 2006 book, China's Cultural Revolution, examines the deaths of thousands of Southern Mongolians ....

<details>...