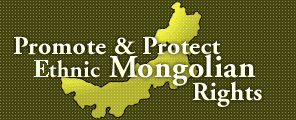 To gather and distribute information concerning Southern (Inner) Mongolian human rights situation and general human rights issues;

To promote and protect ethnic Mongolians' all kind of rights such as basic human rights, indigenous rights, minority rights, civil rights, and political rights in Southern Mongolia;

To encourage human rights and democracy grassroots movements in Southern Mongolia;

To promote human rights and democracy education in Southern Mongolia;

To improve the international community's understanding of deteriorating human rights situations, worsening ethnic, cultural and environmental problems in Southern Mongolia;

Ultimately, to establish a democratic political system in Southern Mongolia.


Southern Mongolian human rights defender, dissident writer and activist Huuchinhuu died



... On October 25, 2016, at 6:40 AM local time, Ms. Huuchinhuu Govruud, human rights defender, dissident writer and activist, died of cancer at the age of 61 in eastern Southern (Inner) Mongolia's Tongliao Municipality. Until her last breath, at her deathbed she had been monitored and guarded by Chinese State Security personnel around the clock for her "possible threat to the national interest and state security of China." Huuchinhuu's son, and only family member, Mr. Cheel Borjigin, who himself has been diagnosed with brain cancer and is receiving chemotherapy in Minneapolis, the United States, notified the Southern Mongolian Human Rights Information Center (SMHRIC) of his mother's passing. As an asylee and outspoken critic of the Chinese Government, returning to visit his mother has been totally impossible for Cheel. His multiple requests to the Chinese Government to allow his mother to come to the United States for medical treatment have been turned down. Having survived breast cancer in 1992, Huuchinhuu suffered from multiple illnesses, including cerebral infection and near total ....

<details>...

Mongolian herders stage protest, demanding halt of COFCO pig farm project



... Following a three-day protest, on October 21, 2016, more than 100 Mongolian herders from Sandag Gachaa (a Gachaa consists of several villages) of Hailas Township in eastern Southern (Inner) Mongolia's Ongniud Banner gathered near the construction site of the China National Cereals, Oils and Foodstuffs Corporation (COFCO Group), urging the Chinese government to halt COFCO Group's pig farm project that illegally occupied a large tract of local Mongolian herders' grazing land. Video clips and pictures the Southern Mongolian Human Rights Information Center (SMHRIC) obtained from the local herders show that herders are holding signs reading "Our land, our territory, inherited from our ancestors, must be inherited to our children and grandchildren!" "We Mongolians are the strongest when we unite together!" The protestors repeatedly chanted, "never give up an inch of our land even if God begs for it!" a well-known motto generally credited to the Mongolian national hero Galdan Boshogt who fought to death defending the western Mongolian Zungaar Empire from Manchu invasion. According to ....

<details>...

"Way Out of Southern Mongolia" by Hada



... Let me make it clear that the term "Southern Mongolia" appearing in this article refers to the Mongolian people who reside within the border of the People's Republic of China. Considering that overseas Mongolians have reached an agreement to use "Uvur Mongol" or "Uvur Mongolchuud," I have recently used "Uvur Mongol" in my articles. However, I will continue to use both "Uvur Mongol" and "Umnuut Mongol" interchangeably because 20 years ago I used "Umnuut Mongol" in my first manuscript of "Way Out of Southern Mongolia." In this article, I attempt to touch upon the way out for all Mongolians across the world. In this sense, this article should really be the "Way Out for Mongolians." Yet I kept the original title because this article still places the utmost emphasis on the future of Southern Mongolians. According to historical sources, notices of the First Session of the Executive Committee Enlarged Meeting of the Southern Mongolian Autonomous Movement Joint Conference and the People's Congress in Ulaanhot, capital of Hingaan League, from February 16 to 20, 1947, and relevant documents ....

<details>...

500 police crack down on 300 herders protesting refinery



... More than 300 Mongolian herders from Ar-Hundelen Som of eastern Southern (Inner) Mongolia's Zaruud Banner ("za lu te qi" in Chinese) staged a protest yesterday in front of the Huuliin-gol Alumina Refinery against the refinery's pollution of the herders' grazing land and serious threats to the health of both herders and livestock. As the herders approached the refinery holding a banner reading "Pollution of Huuliin-gol Alumina Refinery cut off our life line!" more than 500 riot police rounded them up and blocked them from proceeding. Nearly twenty herders were beaten up and thrown into a police bus before the rest of the protestors managed to rescue them from arrest and possible detention. "We herders from all Gachaas of Ar-Hundelen Som gathered in front of the Alumina Refinery today around 10 AM here," a protestor named Altanbagan told the Southern Mongolian Human Rights Information Center (SMHRIC) over the phone. "We urged the local government and the refinery to shut down three major alumina plants that are dumping toxic wastes into our land, water, and air and poisoning us herders and ....

<details>...