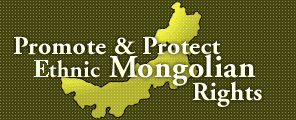 To gather and distribute information concerning Southern (Inner) Mongolian human rights situation and general human rights issues;

To promote and protect ethnic Mongolians' all kind of rights such as basic human rights, indigenous rights, minority rights, civil rights, and political rights in Southern Mongolia;

To encourage human rights and democracy grassroots movements in Southern Mongolia;

To promote human rights and democracy education in Southern Mongolia;

To improve the international community's understanding of deteriorating human rights situations, worsening ethnic, cultural and environmental problems in Southern Mongolia;

Ultimately, to establish a democratic political system in Southern Mongolia.


Testimonies of Mongolian victims of Chinese land grab ( 1 ) --- Cases of four jailed herders



... My name is Tuyaa. I am a herder from Durben-ger Gachaa, Ulaanhad Sum of Zaruud Banner in Tongliao Municipality. We are a group of helpless herders who resorted to embarking on petition journeys to come to Beijing and Huhhot in a hope of having our grievances heard. I am a 38-year old herder who have a high-school level of education. Starting 2015, I have pursued a series of complaints and direct protests against the local authorities' corruption in relation to local election, compensation of housing reconstruction, deforestation, and subsidy to low-income households. As the local government failed to answer my demands, I have petitioned higher levels of authorities starting from banner (equivalent to county) government to league government, from league government to the autonomous region government. Receiving no response from any of these governments, I had to travel to Beijing as many as seven times to raise our concerns to the Chinese Central Government. Not only did the government refuse to answer our demands, but also did they intimidate us and attempt to stop us from further protesting. In September 2017 ....

<details>...

Letter of protest to Japanese children cartoon publisher Shogakukan



... On behalf of the below listed Mongolian organizations and communities in the United States and Europe, we are writing to you to express our strong protest against your children's comic cartoon magazine Coro Coro Comic's March Issue for publishing insulting graffiti on the portrait of Chinggis Khan, the historical hero and the founder of the Mongolian nation. Targeting Japan's tens of millions of young children who are the magazine's audience, the cartoon "Yarisugi!!! Itazura-kun" (meaning "Have gone too far!!! Prankster) vulgarly displays male genitalia on the forehead of Chinggis Khan's portrait and made a pun by pranking on the phonetic similarity of "Chinggis" with the Japanese word of "chin chin" which means "penis". Needless to say, to the Mongolians and the Mongolian descendants across Eurasia and beyond, Chinggis Khan not only has been revered as the founder of their nation states but also represents their national pride and the very identity of who they are. Chinggis Khan is sacred in the hearts and minds of the millions of Mongolians throughout the world. This is not an unfamiliar fact to Japanese society ....

<details>...

35 Mongolian herders tried, long sentences handed down



... As part of China's escalating crackdown on Mongolian herders' protests, the People's Court of Zaruud Banner in eastern Southern (Inner) Mongolia's Tongliao Municipality carried out a mass trial against 35 Mongolian herders from the Bayan-Tumen Gachaa of Ulzeimurun Sum ("sum" is equivalent to township) who defended their land from Chinese occupation. Following a six-month detention, these herders were sentenced to long-term imprisonment ranging from 5 years to 6 months on charges of "provocation and causing disturbance" and "gathering to assault state organs." The Southern Mongolian Human Rights Information Center (SMHRIC) was able to confirm the mass trial with the family members and relatives of the defendants, and obtained the case details. Nine out of the 35 were handed down the following prison terms on December 27, 2017: Mr. Wu Tiedan, 5 years; Ms. Jin Haixia, 4 years; Mr. Borjigin Tsengelt, 3 years; Mr. Ulzeit, 2 years and 6 months; Mr. Shuang Xi, 2 years; Mr. Tsetsenbat, 1 year and 6 months; Mr. Madu, 1 year and 6 months; Mr. Buyan, 1 year; Mr. Sarantsogt, 1 year. The remaining 26 were ....

<details>...

Mongolian language banned in schools, Internet posts removed



... "The so-called bilingual education is nothing but a monolingual education, i.e. Chinese language education," Mr. Bayar, a long time dissident in exile in Japan and the General Secretary of the Inner Mongolian People's Party, told the Southern Mongolian Human Rights Information Center (SMHRIC). "Needless to say, the 'national common language' is Chinese, and make no mistake, the 'ethnic language' mentioned in the document is offered as a single, separate, and elective course just like a foreign language. It is no longer the language of instruction for any other courses." The news sparked widespread outrage among Mongolians across Southern (Inner) Mongolia. Posts of protest by Mongolian students, teachers, writers, and even ordinary herders have gone viral on the few available social media outlets in China including WeChat, Weibo, and Bainuu. "Apparently our nation is reduced to a Chinese colony," a Mongolian blogger named Rashizamts wrote in a post on his Bainuu space, along with a boycott sign on the word "Chinese" written in Mongolian. Many cited the 19th century French novelist ....

<details>...