SMHRIC
August 29, 2020
New York
Visit here for protest videos: https://www.youtube.com/user/ovormongolmin/videos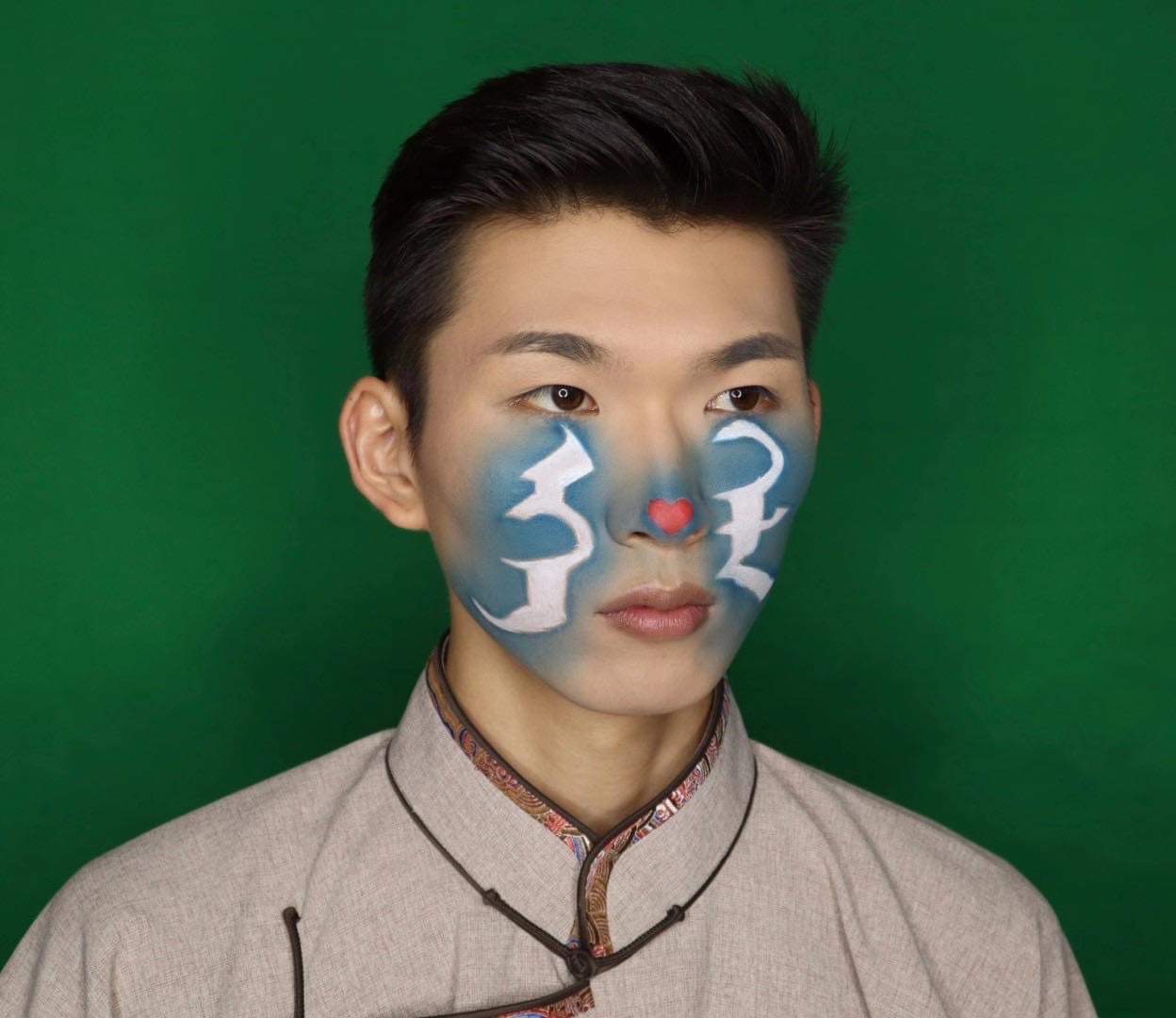 Southern Mongolian young man's face paint with "Mother Tongue" in Mongolian, protesting China's plan to eradicate Mongolian language in Southern Mongolia

(SMRHIC - 2020-08-29)
Southern Mongolians singing "I AM Mongolian" in a massive civil disobedience resistance movement against the Chinese Central Government plan to wipe out Mongolian language

(SMRHIC - 2020-08-29)
After the Chinese Central Government's secret plan to replace Mongolian with Chinese as language of instruction in all schools across Southern Mongolia starting this September in the name of the "Second Type of Bilingual Education" was revealed in documents leaked from local educational authorities, a region-wide civil disobedience resistance movement has broken out in Southern Mongolia.
From kindergarteners to top intellectuals, from middle schoolers to college students, from ordinary herders to rural villagers, and from businessmen even to some government officials, people from all walks of life of Southern Mongolia are standing up in an unprecedented level of solidarity and coordination against the new policy, which many see as a new round of "cultural genocide."
Despite the government's push for an early start of the semester, authorities' intimidation and official propaganda, parents and students across Southern Mongolia are joining the massive school boycott. Schools and classrooms are empty, according to pictures and videos the Southern Mongolian Human Rights Information Center received.
"It was 7:00 AM and I was looking through the window. No student and no parent showed up at the school entrance. I waited and prayed. 8:00 AM. Still no one showed up. I waited and prayed. It was 9:00 AM. My heart was racing, and I looked through the window. No one showed up. With a sigh of relief, I went back to my seat and prayed and waited for another hour. 10:00 AM, no student and no parent showed up. The school yard was empty. I rushed to the bathroom to wash away my tears. We did it," a Mongolian teacher who lived near the school where she taught said in a short audio statement.
Teacher strikes are widespread. Ignoring the school authorities' pressure and threat to terminate employment, all Mongolian teachers in Ereen-hot City in Shiliin-gol League have gone on strike.
"The principals are scheduling one-to-one meetings with all Mongolian teachers. But the teachers are unanimously saying no to this trick. They are agreeing to meet with the principals only if all the teachers are allowed to attend together," a Mongolian parent from the city said in an audio statement.
Many parents are proposing homeschooling instead of sending their children to Chinese schools. Some retired teachers and even college students are volunteering to teach all subjects in Mongolian. Others are rallying students, teachers, parents, and ordinary Mongolian herders to stage a synchronous demonstration in major cities across Southern Mongolia.
"I don't want to become Chinese. I don't want to learn Chinese," said a toddler crying on the floor in a short video clip likely taken by her mother.
"I would rather stay home to herd my cattle than go to a Chinese school," another girl of age 4 or 5 said in a video statement.
Videos went viral showing hundreds of herders and thousands of students in traditional Mongolian clothes gathered in undisclosed separate places, singing "My Mongolia, Steppe Mongolia" to protest the new language policy.
Singers and musicians are gathering to rally fellow Southern Mongolians to defend their right to mother tongue and reject the "Second Type of Bilingual Education."
Mongolian lawyers and legal professionals are providing guidance to defend the Mongolian rights and possibly file lawsuits against the educational authorities and individual perpetrators in accordance with the Chinese constitutions, Ethnic Minority Autonomy Law, and other relevant laws and regulations that guarantee the rights of national minorities to their mother tongues.
Group protests, rallies, signature collection campaigns and solo protests in video, audio, and written formats are going viral via WeChat and TikTok.
"If you don't listen to us, we will blacklist you and fire you from your work. Haha, what else? Yeah, we will cut your social benefits. Now, are you still not afraid?" a Mongolian parent mocked the authorities' intimidation. "How can you blacklist a person who has not committed any crime? What's your logic? It is laughable that you are still confused by your own terminologies, thinking 'intimidating the people' is 'serving the people.'"
"This might be my last live broadcast. They said they will arrest me in a month. I told them they are very welcome to do so. I gave them my address and all my contacts. I might not be able to go live for a while. So, let's go live now. No matter what, what I say will still be the same: I categorically reject so-called 'bilingual education.' I urge all Mongolian parents not to send their children to school on September 1," a Mongolian parent, snapping his fingers joyfully, said mockingly in a video clip titled "Arrest Me Immediately."
Creative cartoons and short video clips remind people of the power of solidarity. A short cartoon with a Mongolian poem asks Southern Mongolians to unite together to defend their rights, showing stories of ants versus an anteater, crabs versus a seagull, and penguins versus a killer whale.
In another short video, a young Mongolian man teaches people how to deal with the school authorities by having their children take "sick leave." "I am not sure when my child will recover. But I hope he will be fine by the time bilingual education is canceled," he said in mockery, pretending to answer the principal's question of "When can your child return to school?"
As the protest gathers momentum, the authorities are intensifying their crackdown. Hundreds of angry parents gathered in front of the Gahait Mongolian School of Zaruud Banner, demanding the immediate discharge of their children, who have been confined to their dormitories after their parents sent them to the school a day ago without the knowledge of the change. SWAT teams and hundreds of riot police poured to the scene, preventing the parents from accessing the school dormitories. Following hours of standoff, parents finally broke through the police barricade and proceeded to pick up their children.
In Horchin Left Hand Rear Banner, protests by the Mongolian parents are met with police crackdown. Several parents were beaten and taken into police vehicles. In Horchin Right Hand Front Banner and Huree Banner, protesting parents sang Mongolian songs including "Let Us Mongolians Be Who We Are" and "I Am Mongolian."
In front of the entrance of the Inner Mongolia Normal University Affiliated School in the regional capital, Hohhot, police interfered in a protest staged by parents and students and confiscated their joint appeal. According to numerous warnings issued by the protesters, police and school authorities are desperately harvesting signatures from any written appeals or petitions to use fraudulently to claim that the bilingual education policy is supported by many.
Hundreds of Mongolian activists have either been detained or placed under residential surveillance, a form of house arrest. Ms. Ulaantuyaa, a teacher from Zaruud Banner, and Mr. Nasanbayar, who rallied the people publicly to protest the new language policy, were taken away by police. Herder's leaders Ms. Bao Guniang and Ms. Yanjindulam were given orders not leave their residences.
Visit here for protest videos: https://www.youtube.com/user/ovormongolmin/videos