SMHRIC
Jan 08, 2017
New York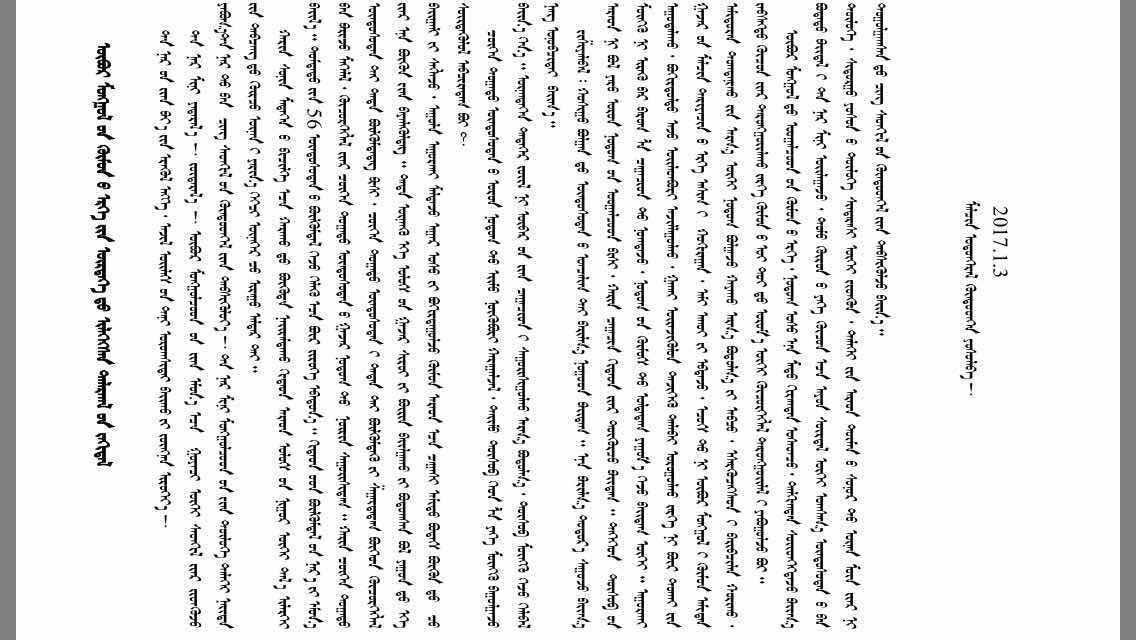 A letter from Ms.Odongerel to the Southern Mongolian Human Rights Information Center
The following is an English translation of an open letter to the Southern Mongolian Human Rights Information Center (SMHRIC) from Ms. Odongerel, a Mongolian herder from the Chinese-occupied Southern Mongolia. As a response to the SMHRIC's recent confrontation with the Chinese Government's delegation at the United Nations Forum on Minority Issues in Geneva, the letter was initially published by Ms. Odongerel via Chinese social media including WeChat, and later was circulated via Face Book and Twitter. Ms. Odongerel has been arrested, detained and jailed numerous times by the Chinese authorities for defending the rights of local Mongolian herders.


A Letter of Gratitude to the Southern Mongolian Human Rights Information Center
January 3, 2017
I hope this letter finds you well, and wish you a greater success in your work!
I am writing to express my heartfelt respect to you for your tireless and selfless work for the cause of all Southern Mongolians. We are truly proud of you for your great effort to take up these noble yet arduous tasks for making our voice heard on the international stage and telling the truth to the world on behalf of our fellow Mongolians.
In contrast, from video clips and other news reports, one can easily see how shameless the People's Republic of China is. Not only are we tired of hearing about the Chinese doctrine of "harmony among the 56 nationalities", we are also offended by the idea of it. Under the pretext of "ethnic harmony", the Chinese have occupied the lands of national minorities and set up settlements through deception and violence. The so-called "ethnic harmony" is not something that the Chinese make any effort to actually realize, but is something that the Chinese demand from national minorities through violence and force. If the Chinese are indeed serious about "territorial integrity", why do they destroy mother earth, open up mines recklessly and pollute the air and water, threatening not only the existence of animals and plants but also the very survival of fellow human beings?
Chinese propaganda consistently conveys the message that large amounts of money are earmarked to national minority regions as part of this project and that program under such and such preferential policies. In fact, those funds are used for nothing but projects and programs for settling their own immigrants.
For example, each and every banner (banner is equivalent to county) has built massive buildings of seemingly Mongolian traditional style. However, the occupants of these buildings are not the indigenous people of the land, but the Chinese immigrants. Therefore, those funds earmarked from all sorts of projects never reach the hands of local Mongolians, but entirely end up in the pockets of Chinese immigrants. Opening up mines and inviting heavily polluted factories and pig-farms to the Mongolian lands are not accidental events but part of deliberate policies by the Chinese to deprive local herders and farms of their legal rights, to destroy the natural environment and eventually to make Southern Mongolia an uninhabitable place. Those who stand up to oppose these policies are being met with unimaginably brutal violence, arrests and armed crackdowns.
We feel sincere gratitude and deep respect for your intimate knowledge of and close attention to the gross violations of the human rights of the indigenous Mongolian people and the destruction of our natural environment. We are grateful for your enormous courage in confronting formidable authoritarian regimes, your relentless struggle for justice for our nation and people, and diligent work for informing people around the world of what has been happening in Southern Mongolia.
Sincerely Yours,
Odongerel, a herder