SMHRIC
June 4, 2011
New York
| | |
| --- | --- |
| | |
| When searching "Inner Mongolian protest" Baidu search results says, "sorry in accordance with relevant laws and policies, this discussion forum is temporarily closed." | |
Military Control
In response to the week-long widespread protests by Mongolians in Southern (Inner) Mongolia, Chinese authorities declared martial law last week in major cities of the region including the capital Hohhot, eastern cities of Shiliin-hot, Ulaanhad and Tongliao, and western city of Dongsheng. Fearing that mass protests might spread across the region and possibly across China, Chinese authorities declared that the region is "in a war-like state" (see attached "Explanation of Reason of Sealing off Schools").
Sources said that more paramilitary forces and riot police have been dispatched to the region's critical places to prevent any mass protest or unrest. Eyewitnesses confirmed the increasingly heavy presence of military troops and police in the region are causing the public fear, especially in the regional capital Hohhot and Ulaanhad.
The US-based Radio Free Asia quoted an eyewitness, "as I got on the train at Hohhot, the place looked like it was preparing for war... there were special police everywhere wearing bulletproof vests. They were carrying automatic weapons and pointing them at the passengers in the Hohhot railway station."
According to an article by Tian Ren entitled "In Exchange of Cracking Down on the Protests in Inner Mongolia, the [Chinese] Authorities Are Leaving Beijing Defenseless" posted on the overseas Chinese media Boxun News (http://www.boxun.com/news/gb/china/2011/06/201106020450.shtml ), Chinese Infantry Group Army No.38, No.65, and No.27 stationed in Hebei Province and several divisions of Beijing Military Zone entered Southern Mongolia to quash the protests.
"Military and police presence are still heavy here in Hohhot, especially today (June 4)," a Mongolian researcher at a university in Hohhot told the Southern Mongolian Human Rights Information Center (SMHRIC) in a short email message, "in fact, 6.4 Event has nothing to do with our Mongolian protests. We Mongolians are trying to free ourselves from any form of Chinese control authoritarian or democratic alike. Our struggle is against a foreign occupation. Theirs is for their internal democratization. But, the authorities here are reinforcing their military forces anyway."
Witch-hunt
As the wide spread Mongolian protests were somewhat temporarily controlled through military in the restive Mongolian region, the Chinese authorities quickly launched a region-wide witch-hunt.
At least 40 Mongolian students and herders were arrested in Shiliin-gol League including Right Ujumchin Banner, Left Ujumchin Banner, Shuluun-huh Banner, Huveed Shar Banner, and the league capital Shiliin-hot City during the week-long protests.
"A few of the arrested were released last week. But they were quickly re-arrested and put under detention immediately after the Chinese Foreign Ministry Spokesperson Jiang Yu's statement on the Mongolian protests", a native of Shiliin-gol League who went into exile in Europe told SMHIRC, "increasing number of Mongolians are being questioned about participation in the protests and connection with foreigners."
An estimated 50 Mongolian students and ordinary residents were arrested during several protests in Hohhot last month. Sources said none of these detainees have been released.
"A new round of arrest is taking place here now. Right next door somebody was just taken away" a Mongolian teacher at the Inner Mongolia Normal University told SMHRIC over an email statement, "Mongolians fear that another wave of political purge is coming, because the 1968 massacre is still fresh in the memory of the Mongolians." The Chinese authorities admit that 16,222 Mongols were killed and many more tortured, maimed and jailed during 1968-1970. Other sources estimate that the actual numbers should be much higher than the official data.
SMHRIC was able to confirm that two prominent free-lance Mongolian writers, Mr. Biligbaatar and Mr. Bolchuluu, were arrested for alleged involvement in the protests. Biligbaatar, a native of Shiliin-gol League, was arrested in the regional capital Shiliinhot, and Bolchuluu, also a native of Shiliin-gol, was arrested in eastern Southern Mongolia's Ulaanhad while he was on a trip to the city two day ago. Their whereabouts and health conditions are unknown.
Family members of Southern Mongolian exiles, especially those from Shiliin-gol League are being questioned and ordered to provide the authorities with information about the exiles. The local Public Security Bureau has instructed some of them to return and surrender for "wrongdoings".
Official Response
According to a written explanation issued to students of the Inner Mongolian University of Agriculture (former Inner Mongolian University of Agriculture and Animal Husbandry) possibly from the university's Party Committee, the decision of sealing off school is an "extraordinary decision" made by the Autonomous Region Party Committee at the "extraordinary moment" (see the attached original document and its English translation").
Lacking the confidence of facing the problem directly and listening to the Mongolian people's deep concerns and grievances, the Chinese authorities are blaming "external hostile forces" and "internal extremists".
"This round of 5.30 (May 30) attempts is a political conspiracy organized, designed and instigated by external hostile forces and a very few internal extremists", the official document states in describing the protests, "its purpose is to attempt to achieve their various goals of sabotaging ethnic harmony, instigating ethnic confrontation, splitting the country and destroying stability."
Students are still confined to their school campuses heavily guarded by riot police and military forces across the region. Students who wish to go out of the campus must obtain approvals from layers of school authorities by submitting a written request.
"My school is still sealed off. Internet is cut off, and cell phones are blocked. It is outrageous and boring. We have nothing to do, but to play poker" a Mongolian student from the Inner Mongolian University of Agriculture said in an email message to SMHRIC, "anybody who wants to go out must get approvals from the school, department and the security office." (See attached Leave Request Form)
"Today is June 4, and June 8, the court day of Mergen's case is approaching," another student from Hohhot stated in an email communication to SMHRIC, "we are not allowed to go out because the school authorities told us that there are many foreign reporters from over 30 countries waiting in Hohhot for any news."
Information Blackout
Almost all Mongolian language internet chat rooms, personal blogs, and discussion groups are either completely shutdown or write-access disabled in Southern Mongolia as the Chinese authorities attempt to create an information blackout in the region to cut off any contact to the outside world.
Boljoo (www.boljoo.com), a Mongolian script free instant messenger software popular among the Mongolians, has been completely shutdown along with its discussion forum since May 30, 2011;
Other Mongolian popular sites like Ulaaq Internet Bar (www.ulaaq.com) are still up, but the feature of posting messages has been disabled by the Chinese authorities.
"If you look at these sites, they seem to be on. In fact, they are useless because no one can post anything on them," an administrator of a Mongolian site who asked not to be identified, told SMHRIC over an instant messenger, "the Internet censorship here is increasingly tricky."
China's major Internet search engine Baidu (www.baidu.com) continues to filter out information on the Mongolian protests. A key word "Inner Mongolia protest" ("nei meng gu kang yi" in Chinese) typed in its discussion forum ("tie ba" in Chinese) returned no results, stating that "sorry, in accordance with relevant laws and policies, this discussion forum is temporarily closed." (See the screen shot above)
Both cell phone and land line calls are blocked or restricted. Phone calls to schools and other institutions remain unanswered. In western Southern Mongolia's Alshaa League, cell phone service has been interrupted since a week ago and the authorities there issued a document to fire anyone who sent any text message supporting the protests.
[Protest Updates: SMHRIC was able to confirm that Mongolian students managed to take to the streets in western Southern Mongolia's Alshaa League on May 26, and in Ordos Municipality on May 27, as scheduled. More details and photos will be posted on our website as they become available.]
Standardization of Names
In response to requests from news media and human rights organizations, SMHRIC has created a list of correct spelling of the names of people and places involved with the protests:
Correct Spelling

In Chinese

Possible Aliases

Shiliin-gol League

锡林郭勒盟or 锡盟

Xilin-gol, Xilin Meng, Xiliin-gol, Xilin guole

Shuluun Huh Banner

正蓝旗 or 蓝旗

Zheng Lan Banner, Zhenglan Banner, Lan Banner, Lanqi Banner

Huveet Shar Banner

镶黄旗 or 黄旗

Xianghuag Banner, Xiang Huang Banner, Huang Banner, Huangqi Banner

Right Ujumchin Banner

西乌珠穆沁旗 or 西乌旗

Xi Wuzhumuqin Banner, Xiwu Banner, West Ujumchin Banner

Left Ujumchin Banner

东乌珠穆沁旗 or 东乌旗

Dong Wuzhumuqin Banner, Dongwu Banner, East Ujumchin Banner

Shiliinhot City

Xilinhot City, Xiliinhot City, Xilinhaote City

Ulaanhad City

赤峰市

Ulanhad City, Ulanhada City, Chifeng City

Ordos City

鄂尔多斯市

Erdos City, Erduosi City, Eerduosi City

Alshaa League

Alaxa League, Alashan League

Bogt City

包头市

Baotou City, Bao Tou City

Bayannuur League

巴彦诺尔盟

or

巴盟

Bayannuoer League, Ba League

Mr.Mergen

莫日根

or

莫尔根

Mr.Murgen, Mr.Morigen, Mr.Morgen, Mr.Moergen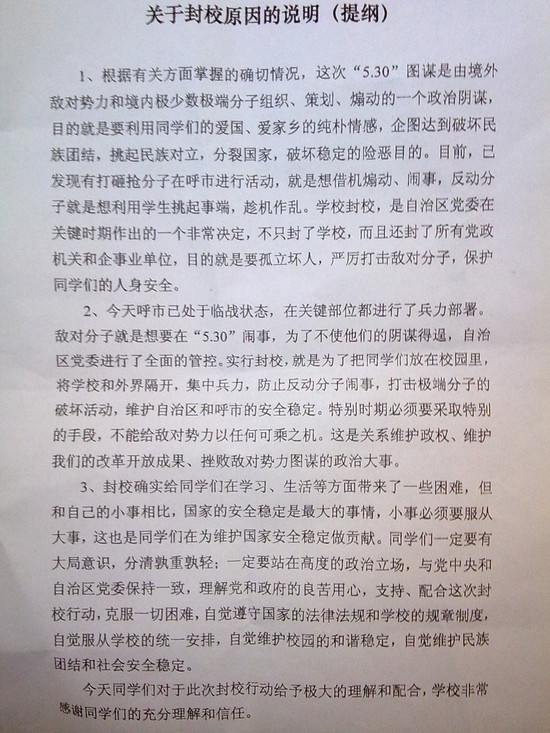 Explanation of the "Sealing Off Schools" (Draft)
1. According to accurate information obtained by relevant parties, this round of "5.30" (May 30) attempts is a political conspiracy organized, designed and instigated by external hostile forces and a very few internal extremists. Its purpose is to attempt to achieve their vicious goals of sabotaging ethnic harmony, instigating ethnic confrontation, splitting the country and destroying stability by exploiting the students' naive sentiments of patriotism and love of their homeland. Currently, we already found that some have started their activities of sabotaging and looting in Hohhot City, taking this opportunity to instigate and create disturbances. Reactionary elements, no doubt, are attempting to cause trouble and insurrection using students. "Sealing off schools" is an extraordinary decision made by the Autonomous Region Party Committee at this extraordinary moment. Not only all schools, but also all Party and Government institutions and enterprises are sealed off. The purpose is to isolate bad people, strike hostile elements hard and protect the students' personal safety.
2. Today Hohhot is in a war-like state. Military forces have been deployed at all critical locations. Hostile elements, no doubt, are attempting to stir up trouble on "5.30" (May 30, 2011). In order to not let their plot succeed, the Autonomous Region Party Committee has taken complete control. "Sealing off schools" means to confine students to their campuses, to isolate the schools from the outside world, to deploy military forces, to prevent reactionary elements from making trouble, to strike against destructive activities by extremists, to maintain the security and stability of the Autonomous Region and Hohhot City. Extraordinary measures must be taken at this extraordinary moment. Any opportunity for success by hostile forces must be denied. This is an important political matter related to maintaining the regime, maintaining the fruit of our "reform and open-up" initiative by defeating the conspiracy of the hostile forces.
3. "Sealing off schools" has certainly brought some inconvenience to the students' study and daily life. Yet, compared to this small personal matter, the security and stability of the country is the most important matter. Small matters must give way to important matters. This is also our fellow students' contribution to maintaining the security and stability of the country. Students must have a macro view to distinguish what is important and what is not; must stand on a political high ground and understand the great efforts being made by the Central Party Committee and the Autonomous Party Committee; must support and cooperate with the "sealing off schools" initiative and overcome all difficulties; must of their own accord obey the country's laws, regulations and school discipline; must follow self-consciously the school's rules of order to maintain harmony and stability on campuses; must of their own accord maintain ethnic harmony and peace and stability.
Today fellow students showed a great understanding and cooperation during the implementation of "sealing off schools". School authorities appreciated the level of their understanding and trust.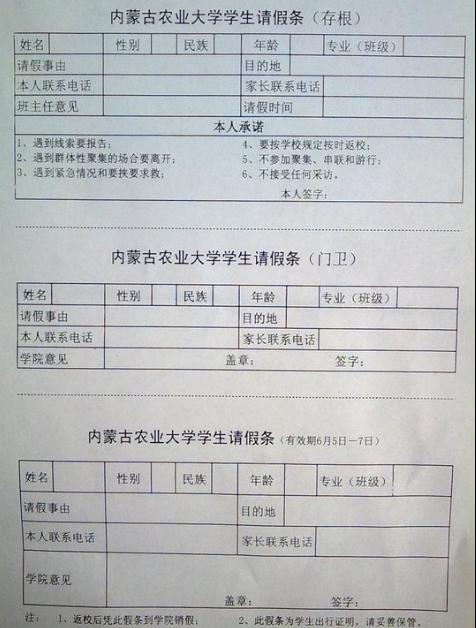 The above "Leave Request Form of the Inner Mongolia Agricultural University" specifically urged students to accept the following six conditions:
1. Upon seeing any suspicion must report;
2. Upon seeing any group or rally must leave the scene;
3. Upon encountering any emergency or threat must seek help;
4. Must return to school on time according to school regulations;
5. Must not participate any gathering, rally and demonstration;
6. Must not answer any interview.