SMHRIC
Feb 15, 2008
New York
click here or on the picture below to read the book! (PDF 86MB)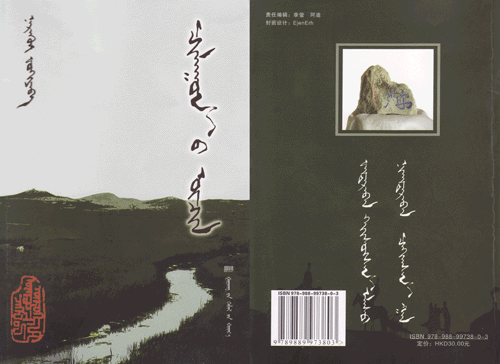 According to a recent communication from Ms. Huuchinhuu, a Mongolian middle school teacher and long time dissident, her book entitled "Silent Rock" ("Chuluunii Uchil" in Mongolian) was confiscated by the Tongliao City Public Security Bureau of Inner Mongolia Autonomous Region. She described her book as a self-published collection of 42 pieces of previously published literary works including essays, travelogues, personal memoirs of daily life and views on environmental issues. Ms. Huuchinhuu stated that the book reflected her personal thoughts and feelings about themes and subjects unrelated to anything that could be considered "politically sensitive".
The Inner Mongolia Cultural Publishing House received the manuscript in June 2007 and as required, passed it on to the Inner Mongolia Bureau of Publications for further "content inspection". Publication was immediately denied. Despite the denial of permission, Ms. Huuchinhuu succeeded in having the book published, with a valid International Standard Book Number (ISBN) in October 2007. In view of China's intensifying suppression of freedom of speech and press, as well as the authorities' ever tightening surveillance over her activities, Ms. Huuchinhuu chose not to store copies of her book in her own residence. She stored half of the books in her niece's home, and the other half in a colleagues's storage room. On October 22, 2007 the local police arrested Ms. Huuchinhuu's niece and detained her until she gave access to her home. All books were confiscated without any legal process. At the same time, the books kept in her colleague's home were similarly confiscated. The authorities also located more than a dozen students of the Mongolian Middle School who had purchased the book. They were forced to give up their copies and told that they would face expulsion if they continued to buy and read such types of publications.
In late summer 2007, Ms. Huuchinhuu made arrangements to publish another book entitled "The Stone-hearted Tree" in neighboring Liaoning province. However, when the print run was about to start, the State Security Bureau of Fu Xin County ordered a halt to publication. On September 2, to prevent possible confiscation of the master film copy, Ms. Huuchinhuu asked a friend in Zhang Wu County to store the master film. Ms. Huuchinhuu reported that recently, the Tongliao City State Security Bureau dispatched personnel to Zhang Wu County and the film copy was seized.
As to why the authorities are so concerned about her books, Ms. Huuchinhuu said the Government is not targeting her books but the author herself because she was a known member of the Southern Mongolian Democratic Alliance, a Mongolian organization blackballed in 1995 as an "illegal organization" by the Chinese authorities. In her written communication to SMHRIC, Ms. Huuchinhuu states that she has never willingly cooperated with the authorities even when detained and questioned "countless times". Consequently, her current salary is half of her co-workers' due to her refusal to write a statement repudiating her actions and beliefs. Her refusal to cooperate has made her the target of punitive actions as seen in the denial of her freedom to freely publish and her right to travel internationally. Last summer, her passport application was denied by the Chinese authorities due to her "possible threat to the state security and national interests" of China.