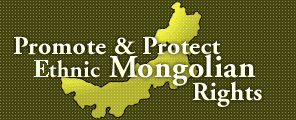 To gather and distribute information concerning Southern (Inner) Mongolian human rights situation and general human rights issues;

To promote and protect ethnic Mongolians' all kind of rights such as basic human rights, indigenous rights, minority rights, civil rights, and political rights in Southern Mongolia;

To encourage human rights and democracy grassroots movements in Southern Mongolia;

To promote human rights and democracy education in Southern Mongolia;

To improve the international community's understanding of deteriorating human rights situations, worsening ethnic, cultural and environmental problems in Southern Mongolia;

Ultimately, to establish a democratic political system in Southern Mongolia.


A letter of gratitude to the Southern Mongolian Human Rights Information Center



... I am writing to express my heartfelt respect to you for your tireless and selfless work for the cause of all Southern Mongolians. We are truly proud of you for your great effort to take up these noble yet arduous tasks for making our voice heard on the international stage and telling the truth to the world on behalf of our fellow Mongolians. In contrast, from video clips and other news reports, one can easily see how shameless the People's Republic of China is. Not only are we tired of hearing about the Chinese doctrine of "harmony among the 56 nationalities", we are also offended by the idea of it. Under the pretext of "ethnic harmony", the Chinese have occupied the lands of national minorities and set up settlements through deception and violence. The so-called "ethnic harmony" is not something that the Chinese make any effort to actually realize, but is something that the Chinese demand from national minorities through violence and force. If the Chinese are indeed serious about "territorial integrity", why do they destroy mother earth, open up mines recklessly and pollute the air and water, threatening not only the ....

<details>...

A statement of solidarity from a Tibetan, Uyghur, Southern Mongolian, and Chinese activist



... 2016 has been a year of tumultuous, global social injustices and human rights violations. From Syria to Brazil, Russia to Burundi, governments around the world have openly broken fundamental, international laws that exist to protect the freedoms of people around the world, and give them justice. For those living under China's rule human rights conditions have continued on a steep downward spiral. Human rights defenders in China remain casualties of the State's aggressive campaign against peaceful dissent, underling a direct contradiction with President Xi's vow to promote the "rule of law." In the past 12 months the Chinese regime has rounded up hundreds of human rights defenders in an unprecedented, indefensible crackdown against lawyers and activists; has flagrantly disregarded religious freedoms by implementing a ban on fasting during Ramadan in East Turkestan, and forcefully evicted thousands of Tibetan monks and nuns from their homes at Larung Gar in eastern Tibet. The Party has enforced draconian surveillance laws and systematic, long-term security measures as part of an intensified ....

<details>...

Outraged Mongolian herder killed four Chinese after being beaten



... On November 25, 2016, Mr. Unench, a Mongolian herder from the Ulgai area of Southern Mongolia's Left Uzumchin Banner, killed four Chinese named Wei Jianguo, Wei Jianqi (cousin of Wei Jianguo), Wei Jianchen (brother of Wei Jianqi) and An Xiaoping after being beaten by three of the four in a dispute over grazing land and payment of sheep tending. According to the official Weixin news release of the Tongliao Municipality Public Security Bureau, Unench was arrested nine hours later in his home place of eastern Southern Mongolia's Horchin Left Wing Middle Banner. A native of Yoliin-mod Township of Horchin Left Wing Middle Banner, Unench was hired by the Wei's, a Chinese family, as a sheep tender in the Ulgai area. Although the details of the dispute are unavailable, information from different sources confirm that Unench had been blamed and abused by the Wei's for not feeding the sheep sufficiently to accumulate fat. Expanding deserts, shrinking grazing land, depletion of underground water, and ever-worsening pollution as a direct result of mining, farming, and opening up by the Chinese ....

<details>...

UNPO side-event to UN Minority Forum highlights plight of forgotten minorities in humanitarian crises



... Furthermore, Enghebatu Togochog, director of the Southern Mongolian Human Rights Information Center (SMHRIC) clarified how Southern Mongolians have also been subjected to repression at the hands of the Chinese government. Mr Togochog shed a light on how the land reforms of the 1950s still impact Southern Mongolians today, with large scale immigration, intensive farming and land-grabbing leading to environmental degradation and an increasing number of internally displaced peoples.Monireh Shirani, director of the Balochistan Human Rights Group, focussed her intervention on the impact of the death penalty on the livelihood of the Baloch community in Iran. Ms Shirani remarked how "when it comes to death penalty and executions we are overrepresented", underlining the issue of secret executions in Iran. Moreover, she highlighted how Baloch prisoners are being moved, so that they cannot be kept track of, how some villages in Balochistan have seen their entire male population executed, and how this all points to the dire need for this issue to be perceived as a humanitarian crisis by the ....

<details>...