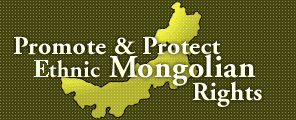 To gather and distribute information concerning Southern (Inner) Mongolian human rights situation and general human rights issues;

To promote and protect ethnic Mongolians' all kind of rights such as basic human rights, indigenous rights, minority rights, civil rights, and political rights in Southern Mongolia;

To encourage human rights and democracy grassroots movements in Southern Mongolia;

To promote human rights and democracy education in Southern Mongolia;

To improve the international community's understanding of deteriorating human rights situations, worsening ethnic, cultural and environmental problems in Southern Mongolia;

Ultimately, to establish a democratic political system in Southern Mongolia.


Rally: "Let Freedom Ring for Chinese, Tibetans, Uyghurs, Mongols and Taiwanese"



... Press Advisory, "Let Freedom Ring for Chinese, Tibetans, Uyghurs, Mongols and Taiwanese", Rally Urging President Obama to Press Chinese President Xi Jinping on human rights in China, September 25, 11 am – 1 pm, near the White House, International Campaign for Tibet (ICT) Media contact: Matteo Mecacci, President of ICT, Initiatives for China (IFC) Media contact: Yang Jianli, President & Founder of IFC, As President Obama hosts Chinese President Xi Jinping for a State visit, a coalition of human rights groups will hold a rally near the White House to highlight China's dismal human rights record and to urge President Obama to send a strong public message to the Chinese leadership that human rights abuses in China must end. Since Xi Jinping became the top leader of China, Chinese Christians, writers, human rights lawyers, Tibetans, Uyghurs, Mongols and many other communities have suffered increased persecution and an unrelenting assault on their basic human rights. Taiwanese Americans ask that President Obama impress upon Xi that China dismantle its 1,600 missiles targeted at Taiwan and ....

<details>...

Herders took to the streets, 20 some arrested



... On September 6, 2015, as officials from the "Inner Mongolia Autonomous Region" Government and Party Committee paid an inspection tour to Mongolian pastoralist communities in central Southern Mongolia's Shuluun Tsagaan Banner, more than 200 herders gathered in front of the Banner Government building in an attempt to bring their grievances to the officials' attention. Not only did the local authorities fail to meet the herders' demands, but they also dispersed the protesters with riot police and security personnel. Seven herders were arrested that evening by the local Public Security Bureau. On September 7, 2015, herders continued their protest in front of the Government Building. On that evening, five herders including Mr. Natsag, Mr. Nasan-ulzei, Mr. Yungee, Mr. Gangaa and Mr. Manglai were taken away by more than 20 Public Security personnel for organizing the protest. "They did not give us any explanation as to why they carried out the arrest," said Mr. Natsag, who was released on the next day, as he spoke with the Southern Mongolian Human Rights Information Center (SMHRIC) over the phone. "Our cell ....

<details>...

Hada: "Mongolia is a Great Nation"



... Therefore, the Southern Mongolians are by no means an "ethnic minority". It is an undeniable fact that they are the indigenous people of a great nation. In order to serve their hidden political agenda, the Chinese discriminated against us and downgraded us to an "ethnic minority." It serves a political agenda of the Chinese to belittle the Mongolian nation, diminish national self-confidence and cause them to abandon any aspirations of self-determination. The Chinese government skillfully hides the true nature of colonization in occupied nations by employing the term "ethnic minority" over more legitimate terms such as "indigenous people" or "indigenous nation." Furthermore, this alleged "minority" status is used in contrast to the 1.5 billion Han majority. Why must we be compared to them? Why isn't our nation being compared with the Vatican whose population is less than one thousand? Are we really destined to the status of "ethnic minority" imposed on us by the Chinese? Are we truly devoid of the capability of building and running our own nation state? Why don't we make our mind to fight for our ....

<details>...

Beijing Winter Olympics 2011 Bid: Joint Open Letter to International Olympic Committee



... As Tibetans, Uyghurs, Southern Mongolians and Han Chinese we join together to urge you, International Olympic Committee members, not to award another Olympic Games to China. All of the people we represent have suffered as a result of the Chinese government's contempt for human rights. We hope that you are aware by now that the 2008 Beijing Games did nothing to alleviate human rights abuses in China or enhance freedom. In fact the situation now in 2015 is far worse than when those Games were awarded in 2001. In the past 12 months alone the Chinese government has unleashed a harsh crackdown on human rights defenders in China itself, most recently arresting hundreds of human rights lawyers; in East Turkestan (Ch: Xinjiang), where the majority population of Uyghurs practice Islam, there has been a ban on participation in many "religious activities" during Ramadan; in Tibet the response to a surge of resistance has been brutal and ruthless, with reports of armed police attacking and beating peaceful protesters and seriously injuring many more, and in Southern Mongolia China continues to force ....

<details>...