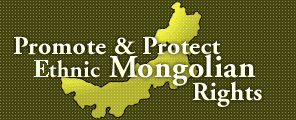 To gather and distribute information concerning Southern (Inner) Mongolian human rights situation and general human rights issues;

To promote and protect ethnic Mongolians' all kind of rights such as basic human rights, indigenous rights, minority rights, civil rights, and political rights in Southern Mongolia;

To encourage human rights and democracy grassroots movements in Southern Mongolia;

To promote human rights and democracy education in Southern Mongolia;

To improve the international community's understanding of deteriorating human rights situations, worsening ethnic, cultural and environmental problems in Southern Mongolia;

Ultimately, to establish a democratic political system in Southern Mongolia.


Herders pepper-sprayed and beaten, nine arrested for defending land and water



... On n June 18, 2017, more than a hundred Mongolian herders from Duruu-nuur Gachaa, Darhan-uul Sum of eastern Southern Mongolia's Heshigten Banner gathered near the Dalai-nuur Lake shore to defend their grazing land and sacred water. Chinese fishermen and riot police attacked the protesters with pepper spray and batons. At least nine Mongolian herders were arrested and dragged away by police after being severely beaten. "Riot police are beating our people and spraying an unknown substance at our eyes," a herdswoman at the scene said in a short footage. "Our eyes are burning and having difficulty seeing." "Many are beaten and several arrested and taken away," the protestor added. According to another video clip obtained by the Southern Mongolian Human Rights Information Center (SMHRIC), a herdswoman was beaten on the ground and taken away by the riot police shortly afterward. Another herdsman was beaten down on the ground by nearly a dozen riot police and handcuffed before being carried away. Herders have been appealing to the local government against the fishery....

<details>...

Inner Mongolia has become China's model of assimilation



... BAYIN was three when he moved from the eastern grasslands of Inner Mongolia to Chifeng, a city of some 1m people. Like hundreds of thousands of ethnic Mongolian pastoralists forced to settle by the government, his family has gone from rural yurt to urban block of flats within a generation. Bayin, who is 32, moves seamlessly between staccato Mongolian and tonal Mandarin. In many ways he exemplifies the successful assimilation of China's 6m ethnic Mongolians, most of them in Inner Mongolia in China's north. Yet Bayin lives largely within a Mongolian world. He designs Mongolian robes for a living and wore them to get married in 2012; of his 300 or so wedding guests only a handful were Han, the ethnic group that makes up more than 90% of China's population. His daughter attends a Mongolian-language kindergarten. He likes to watch videos of Mongolian life in the 1950s. The Chinese government has long struggled to bring the country's borderlands under control. It took a decade for the Communist Party to subdue Yunnan in the southwest and Tibet after it came to power in 1949. In Tibet and ....

<details>...




... As the Chinese Central Government Work Inspection Team arrived in the troubled region of Southern (Inner) Mongolia recently, protests of various forms have taken place in rural Mongolian pastoralist communities across multiple banners ("banner" is an administrative unit equivalent to a county). Since last week alone, at least 10 separate protests have been reported. April 24, 2017: Nearly 200 Mongolian herders from Tsegeen Sum of eastern Southern Mongolia's Ongniud Banner staged a protest in front of a pig farm that has recently occupied a large piece of grazing land of the local herders. The protestors held a long banner and chanted slogans, demanding the closure of the pig farm and the immediate return of the grazing land. "We are here today to demand our right to clean air, clean water and justice for the herders," a protestor said in a video clip released on WeChat. April 24, 2017: Herders from Naiman Banner of eastern Southern Mongolia's Tongliao Municipality gathered in front of the local government building, demanding the return of herders' grazing land. The herders held a large ....

<details>...

Last Days on the Grassland - The Nomadic People Caught in the Crosshairs of China's Economic Boom



... For thousands of years, herders have grazed their livestock on the vast Southern Mongolian grasslands. As Chinese investment turns this mineral-rich into a cash cow, does the ancient culture have any hope of survival? A few families are willing to fight for it. Shot and produced by a courageous young filmmaker in collaboration the Southern Mongolian Human Rights Information Center (SMHRIC), the short film "Last Days on the Grassland" is proudly presented by the Narratively, a New York based digital publication and storytelling studio that prides itself on looking beyond the news headlines clickbait, focusing on ordinary people with extraordinary stories. The documentary film is made available on the Narratively website along with a travel journey by the filmmaker who remains anonymous, testifying to the eradication of Mongolian traditional way of life, worsening human rights conditions and tightening policy surveillance in the Chinese-occupied Southern Mongolia. The following is the filmmaker's full version of travel journal entitled "Behind the Story: Chased by the Law in Southern Mongolia": I went to this ....

<details>...