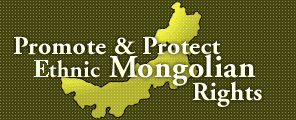 To gather and distribute information concerning Southern (Inner) Mongolian human rights situation and general human rights issues;

To promote and protect ethnic Mongolians' all kind of rights such as basic human rights, indigenous rights, minority rights, civil rights, and political rights in Southern Mongolia;

To encourage human rights and democracy grassroots movements in Southern Mongolia;

To promote human rights and democracy education in Southern Mongolia;

To improve the international community's understanding of deteriorating human rights situations, worsening ethnic, cultural and environmental problems in Southern Mongolia;

Ultimately, to establish a democratic political system in Southern Mongolia.


Outraged Mongolian herder killed four Chinese after being beaten



... On November 25, 2016, Mr. Unench, a Mongolian herder from the Ulgai area of Southern Mongolia's Left Uzumchin Banner, killed four Chinese named Wei Jianguo, Wei Jianqi (cousin of Wei Jianguo), Wei Jianchen (brother of Wei Jianqi) and An Xiaoping after being beaten by three of the four in a dispute over grazing land and payment of sheep tending. According to the official Weixin news release of the Tongliao Municipality Public Security Bureau, Unench was arrested nine hours later in his home place of eastern Southern Mongolia's Horchin Left Wing Middle Banner. A native of Yoliin-mod Township of Horchin Left Wing Middle Banner, Unench was hired by the Wei's, a Chinese family, as a sheep tender in the Ulgai area. Although the details of the dispute are unavailable, information from different sources confirm that Unench had been blamed and abused by the Wei's for not feeding the sheep sufficiently to accumulate fat. Expanding deserts, shrinking grazing land, depletion of underground water, and ever-worsening pollution as a direct result of mining, farming, and opening up by the Chinese ....

<details>...

Chinese delegation interrupts SMHRIC statement at UN Forum on Minority Issues



... The following is the full transcript of the Southern Mongolian Human Rights Information Center (SMHRIC) Statement at the United Nations Forum on Minority Issues 9th Session held in Geneva from November 24-25, 2016. The statement delivered by the SMHRIC Director Mr. Enghebatu Togochog was interrupted by the Chinese Government delegation. Government delegations from Venezuela, Pakistan, Libya, Russia, Mauritania, Syria, Cuba and Iran supported the statement made by the Chinese delegation while the government delegations from Austria, United States, United Kingdom, Canada and Norway expressed their support to the SMHRIC's right to continue its statement. The chairperson eventually allowed the SMHRIC to continue its statement. President of the Forum: Now I would like to give the floor to the Southern Mongolian Human Rights Information Center. You have the floor. Enghebatu Togochog: Mr. Chairperson, distinguished members of the Forum, Thank you for giving me the opportunity to raise our concerns and issues on the human rights condition of the Mongolian people in ....

<details>...

Parents protest appointment of Chinese principals and ban of Mongolian language in kindergartens



... Since November 5, 2016, Mongolian parents from eastern Southern (Inner) Mongolia's Ulaanhad Municipality ("chifeng shi" in Chinese) have launched a series of protests against the educational authorities for appointing Chinese principals to the only two Mongolian kindergartens allowed to teach in Mongolian. Outraged by the newly appointed Chinese principals' ban of the Mongolian language in the kindergartens, Mongolian parents collected signatures and published open letters via Chinese social media. In the latest development, local authorities failed to address the Mongolian parents' demands, sparking further protests and inviting strong criticism of the Chinese authorities' ethnic policy in Southern Mongolia. According to the earliest appeal from the Mongolian parents, "the Ulaanhad Municipality Educational Bureau head Mr. Han Lizhong, ignoring relevant laws and regulations, arbitrarily appointed his close associate Ms. Dai Xiaoli, a Chinese teacher from the former Ulaanhad Municipality 6.1 Kindergarten, to Vice Principal of the Ulaanhad Municipality Mongolian Kindergarten." "As soon as taking office, Dai Xiaoli ....

<details>...

Hada's Appeal to the Supreme People's Court of the People's Republic of China



... To:Supreme People's Court of the People's Republic of China: I, Hada, was arrested by the Division No.1 of the Inner Mongolia Autonomous Region Public Security Bureau for nationality question on December 10, 1995. I was sentenced to 15 years in jail in 1996 by the Hohhot Municipality Intermediate People's Court on charges of splitting the country and engaging in espionage. My appeal to the Inner Mongolia Autonomous Region Higher People's Court was rejected. During my imprisonment, I appealed multiple times through my family members. In 2008, I appealed myself in writing, demanding your court to restore my freedom by providing a large amount of evidence to prove that the two charges against me were groundless. Six years have passed. Yet, your court still has not reheard this unfair trial. Here I made available all relevant documents including my previous appeals, court decisions and verdicts before I start this appeal. I have also written the major events during the past 18 years into this appeal. I urge your court to carry out a rehearing and rehabilitation as to bring those officials involved ....

<details>...