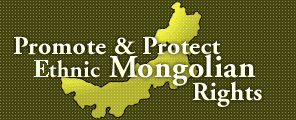 To gather and distribute information concerning Southern (Inner) Mongolian human rights situation and general human rights issues;

To promote and protect ethnic Mongolians' all kind of rights such as basic human rights, indigenous rights, minority rights, civil rights, and political rights in Southern Mongolia;

To encourage human rights and democracy grassroots movements in Southern Mongolia;

To promote human rights and democracy education in Southern Mongolia;

To improve the international community's understanding of deteriorating human rights situations, worsening ethnic, cultural and environmental problems in Southern Mongolia;

Ultimately, to establish a democratic political system in Southern Mongolia.


Video statements by Hada and Xinna (with English subtitles and texts)



... Today, 19 years later, the trumped-up case against me has ended. During these 19 years, in an effort to force me to abandon my beliefs, I was cruelly mistreated and subjected to various forms of tortures and ploys. Yet, I have maintained my beliefs and continued my struggle to today to come to the first step of victory. However, the sacrifices and losses are immeasurable. In particular, my wife and son have been subjected to false accusations, enormous persecution and suffering. I myself have been disabled as a result of torture and brutality. Before the discharge, even though [the Chinese authorities] mentioned to me multiple times that I can file complaints and pursue lawsuits, they have made a great deal of efforts to torture me further in order to deprive me of my rights to seek redress,. Particularly, they made repeated efforts to threaten me that I must not receive interviews from foreign news media; I must not contact anyone other than my relatives. What is most unacceptable is that they claimed the right to continue to treat me as a prisoner after the discharge. I unequivocally rejected all these ...

<details>...

Hada, discharged from "black jail", but not free



... On December 9, 2014, the eve of the International Human Rights Day, long-imprisoned Southern (Inner) Mongolian political prisoner Mr. Hada, 59 years old, was allowed to meet with his wife Xinna, son Uiles, brother Yushan and sister Yuyue in an apartment reportedly owned by the Inner Mongolian Public Security Bureau. Hada was transferred to this residential-like yet heavily guarded apartment on November 17, 2014 from the "black jail" in suburban Hohhot where he was placed under extrajudicial detention for four years after completing his 15 year jail term on December 10, 2010. After many failed attempts, the Southern Mongolian Human Rights Information Center (SMHRIC) was able to have a brief Skype video interview with Hada last night. The interview lasted only 15 seconds before the communication line was cut apparently by the Chinese authorities. All subsequent phone calls to Xinna, Uiles, Yushan and Yuyue and Skype video calls have been blocked. During the brief video conversation, Hada told SMHRIC that he was allowed to have a medical examination and was diagnosed with more than 10 different ....

<details>...

Family uncertain over fate of veteran Mongolian dissident



... Enhebatu Togochog, director of the New York-based Southern Mongolian Human Rights Information Center (SMHRIC), which has been following Hada's case closely, said it was still unclear whether he would be released next week. "[Xinna] hasn't been put under house arrest, but she is still on the receiving end of police harassment," he said. "They should release [Hada], but no one knows if they will. I'm guessing the authorities will take him to a different place instead, and then claim that they have already released him." Rights groups say they have tracked a sharp increase in the use of arbitrary detention and torture by Chinese authorities against rights activists in recent years. Prominent rights attorney Gao Zhisheng was subjected to a "disappearance" of more than a year after he defended some of China's most vulnerable people, including Christians, coal miners and followers of the banned Falun Gong spiritual movement. In July, Xinna wrote letters to Chinese President Xi Jinping, the United Nations Human Rights Council and the U.S. Congressional Committee on Human Rights to highlight Hada's case. Since then ....

<details>...

SMHRIC statement to the United Nations Forum on Minority Issues Side Event: Systemic State Oppression of Minorities



... The systemic land grabbing started in as early as 1947 when the Chinese Communists took over Southern Mongolia. Tens of thousands of Mongolians were brutally killed and Mongolian land was effectively taken over by the Chinese settlers during the so-called "Land Reform Movement." Since then, millions of Chinese peasants and army personnel poured into the Southern Mongolian grasslands to start setting up large scale farms and forestry. To justify its systemic land grabbing and cover up their destruction of the natural environment, the Chinese government adopted the so-called "Ecological Migration" policy in Southern Mongolia. This policy was officially instituted in 2001 to forcibly relocate the entire indigenous Mongolian herding and semi-herding population from their ancestral grazing lands to the overwhelmingly Chinese populated agricultural and urban areas under the pretext of "protecting the grassland eco-system." An equally egregious policy instituted shortly after was the "Total Ban over Livestock Grazing" (or "jin mu"). Under this policy, Mongolian herders grazing livestock in the grasslands ....

<details>...