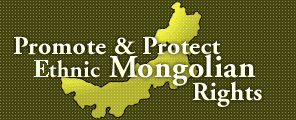 To gather and distribute information concerning Southern (Inner) Mongolian human rights situation and general human rights issues;

To promote and protect ethnic Mongolians' all kind of rights such as basic human rights, indigenous rights, minority rights, civil rights, and political rights in Southern Mongolia;

To encourage human rights and democracy grassroots movements in Southern Mongolia;

To promote human rights and democracy education in Southern Mongolia;

To improve the international community's understanding of deteriorating human rights situations, worsening ethnic, cultural and environmental problems in Southern Mongolia;

Ultimately, to establish a democratic political system in Southern Mongolia.


Hada answers Hindustan Times reporter Sutirtho Patranobis's interview



... Sutirtho: Can you share with me and my readers about your experience in jail? How were you treated? Some reports say that you had been tortured. Is it true? What methods did the police apply? What were your living conditions in the first 15 years? Did the conditions improve in any way during the last four years? Hada: The main objective [of the Chinese authorities] during the 19 years I was in prison was to force me through physical and mental torture to admit to alleged crimes. As a result, I became physically disabled suffering from multiple complications. All kinds of torture methods including use of toxic drugs were applied to break me down mentally to force me to write some statements of their choosing. On two occasions, I was placed under solidarity confinement for 99 days in total. Not only was I tortured in prison far away from my home, but also my family suffered a great deal during those 15 plus years Their objective was to isolate me from my loved ones to break me down. What is even more egregious was that following the 15 years of imprisonment, they threw me into a ...

<details>...

Protest spread across Southern Mongolia, many arrested



... As Chinese authorities intensify their economic exploitation through arbitrary expropriation of grazing lands in Southern (Inner) Mongolia, protests by rural Mongolian herders have spread across Southern Mongolia's pastoralist communities. Over the past week, Mongolian herders staged protests on at least five separate occasions in their respective Banners (equivalent to a county) demanding the right to their grazing lands. At least 17 herders were arrested and many beaten up by police. Since early May this year, Mongolian villagers from Tulee Gachaa (gachaa is equivalent to village), located in Mingren Som (som is equivalent to township), belonging to Naiman Banner (banner is equivalent to county) of eastern Southern (Inner) Mongolia's Tong Liao Municipality have staged a protest against the expropriation of their lands by a government backed Chinese-run forestry company called "Xing Long Gao Forestry". The villagers have lost about 4,000 hectare of land to the forestry company since 2011. On May 9, 2015, five representatives from the community were arrested while they visited Beijing to ....

<details>...

Presentations of SMHRIC representatives at 10th Interethnic Interfaith Leadership Conference



... As someone concerned about progress towards a brighter China, you are cordially invited to participate in the 10th Annual Interethnic/Interfaith Leadership Conferences, to be held in Washington, D.C., USA on April 27-30. Founded by Initiatives for China, with guidance of His Holiness the Dalai Lama and financial support of the National Endowment for Democracy, the Conference seeks to advance mutual understanding, respect, and cooperation among the diverse ethnic, religious, cultural, and regional groups seeking a better China. It also aims to promote universal values and a common front to advance democracy and human rights for all. The groups represented in the Conference will include Han Chinese, Tibetans, Uyghurs, Mongolians, Christians, Falun Gong practitioners, Muslims, Buddhists, and people from Taiwan, Hong Kong and Macau. These conferences are the first time in history that leaders from these ethnic, religious, and regional groups have come together without coercion, to stand up together without fear and hesitation. Conference Location: The National 4-H Youth Conference Center 7100 Connect ....

<details>...

In China, a tug of war over coal gas: Cleaner air but worse for the climate



... Amid the rolling grasslands of northern China, a gleaming new industrial complex offers a beguiling vision for the nation's leaders. Here, on a sandy plain among scattered flocks of sheep, a flagship plant promises to use China's surplus coal while simultaneously delivering cleaner skies over its crowded eastern cities. Modeled on a similar and much older plant in North Dakota, the Hexigten complex in China's Inner Mongolia transforms coal into methane by treating it with heat, steam and oxygen. It then pipes the supposedly cleaner gas to Beijing to heat and power the capital's homes. In the past two years, with anger over the country's smoggy skies rising and demand for coal declining, China has enthusiastically embraced coal gasification. It has proposed to build more than 50 plants like this in its sparsely populated north and west and to create by far the largest synthetic natural gas (SNG) industry in the world. Although the enthusiasm has since waned somewhat — mainly over questions about the industry's economic viability — coal gasification still has powerful backers. But a visit to the semi-arid grasslands of the Asian ....

<details>...