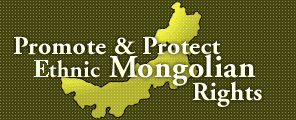 To gather and distribute information concerning Southern (Inner) Mongolian human rights situation and general human rights issues;

To promote and protect ethnic Mongolians' all kind of rights such as basic human rights, indigenous rights, minority rights, civil rights, and political rights in Southern Mongolia;

To encourage human rights and democracy grassroots movements in Southern Mongolia;

To promote human rights and democracy education in Southern Mongolia;

To improve the international community's understanding of deteriorating human rights situations, worsening ethnic, cultural and environmental problems in Southern Mongolia;

Ultimately, to establish a democratic political system in Southern Mongolia.


Protesting Mongolian herders expelled from Beijing



... On November 30, 2013, 17 Mongolian herders from western Southern (Inner) Mongolia's Urad Middle Banner ("wu la te zhong qi" in Chinese) were expelled from Beijing. They had spent the previous 12 days submitting appeals to Central Government authorities, attempting to solicit support from the Chinese State Council Letter and Visitation Bureau and the Ministry of Agriculture to restrain local government officials and Chinese miners from illegally occupying their grazing lands. Dispatches from local Urad Middle Banner government and Public Security officials to Beijing carried out the expulsion of the protesting herders from Beijing. The herders are currently confined to their communities and barred from communications with higher government authorities. According to written communications received by the Southern Mongolian Human Rights Information Center (SMHRIC), the herders are protesting: 1. illegal land expropriation and land sale by local government officials to the Chinese; 2. destruction of the herders' grazing land by Chinese miners and military bases; 3. the government's failure to provide adequate ....

<details>...

Herders tried, family member beaten amid high tension and tight security



... Amid the escalating tension between the Mongolian herders and the Chinese authorities, six Mongolian herders, Mr. Tulguur, Mr. Tugusbayar, Mr. Jargalt, Mr. Nasandalai, Mr. Munkhbayar and Mr. Ulaanbar, stood trial Wednesday before a court in eastern Southern (Inner) Mongolia's Ongniud Banner. Riot police with five trucks arrived to the court with batons and riffles in hand. Ms.Sarangowaa, wife of the herders' leader Tulguur, was beaten unconscious with an electric baton at the entrance of the court as riot police attempted to bar family members and herders from entering the courtroom. "The trial started at 9:00 am and adjourned around 8:30 pm with a 40-minute lunch break," Ms.Longmei, sister of Tulguur, told the Southern Mongolian Human Rights Information Center (SMHRIC) in a phone interview. "Eight attorneys, four Mongolian and four Chinese, defended the six herders at the trial," Longmei said of the trial proceedings. "The prosecutors apparently lack sufficient evidence to support their allegations. Yet the overall tune suggests that the outcome is predetermined like any typical sham trial." Longmei is worried ...

<details>...

Six herders to be tried, three more detained



... Family members of the six detained Mongolian herders, namely Mr. Tulguur, Mr. Tugusbayar, Mr. Jargalt, Mr. Nasandalai, Mr. Munkhbayar and Mr. Ulaanbar, from Bayannuur Gachaa (a gachaa consists of several villages) of Shinsume Sum (sum is equivalent to a township) in eastern Southern (Inner) Mongolia's Ongniud Banner ("weng niu te qi" in Chinese), were given a notice by the Chinese authorities informing them of the scheduled trial of the six detainees at the Ongniud Banner People's Court on November 13, 2013, at 9:00 a.m. in Beijing Time. In another similar case, three Mongolian herders, namely Mr. Tsengelt, Mr. Erdendalai and Mr. Erhembayar from Halgait Village, Ar-hundelen Township of eastern Southern Mongolia's Zaruud Banner, were taken away by police 10 days ago as the Chinese Communist Party Third Plenary Session of the Eighteenth Central Committee approached. Mr. Galsang, uncle of Tsengelt, told SMHRIC over the phone that the three herders are currently being held at the Zaruud Banner Detention Center. "The Public Security Bureau refused to give us a legal explanation of the arrest and ....

<details>...

Together We Lead the Change



... From October 19 to 21 the International Conference on Global support for Democratization in China and Asia held its 6th Annual Conference in Toronto, Canada, under the theme "Together we lead the change". Some 160 participants attended, coming from China, Hong Kong, Taiwan, Europe, Asia and North America, over 20 countries in total. Participants condemned the violations of human rights in China and other Asian authoritarian states. We condemn the restrictions on freedom of expression and freedom of assembly imposed by any authoritarian state. The support given by China to the Assad regime in Syria once again shows that the Chinese Communists are the main obstacle to the global progress of human rights. The Conference noted that fundamental change in any social system must come from within, but the support the democratic free world is extremely important and essential. The Conference is grateful for the support for this meeting given by political leaders from Canada and other countries. We hope that democratic societies will give more support to the ....

<details>...