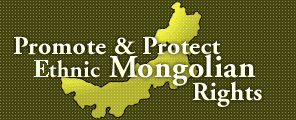 To gather and distribute information concerning Southern (Inner) Mongolian human rights situation and general human rights issues;

To promote and protect ethnic Mongolians' all kind of rights such as basic human rights, indigenous rights, minority rights, civil rights, and political rights in Southern Mongolia;

To encourage human rights and democracy grassroots movements in Southern Mongolia;

To promote human rights and democracy education in Southern Mongolia;

To improve the international community's understanding of deteriorating human rights situations, worsening ethnic, cultural and environmental problems in Southern Mongolia;

Ultimately, to establish a democratic political system in Southern Mongolia.


Beijing Winter Olympics 2011 Bid: Joint Open Letter to International Olympic Committee



... As Tibetans, Uyghurs, Southern Mongolians and Han Chinese we join together to urge you, International Olympic Committee members, not to award another Olympic Games to China. All of the people we represent have suffered as a result of the Chinese government's contempt for human rights. We hope that you are aware by now that the 2008 Beijing Games did nothing to alleviate human rights abuses in China or enhance freedom. In fact the situation now in 2015 is far worse than when those Games were awarded in 2001. In the past 12 months alone the Chinese government has unleashed a harsh crackdown on human rights defenders in China itself, most recently arresting hundreds of human rights lawyers; in East Turkestan (Ch: Xinjiang), where the majority population of Uyghurs practice Islam, there has been a ban on participation in many "religious activities" during Ramadan; in Tibet the response to a surge of resistance has been brutal and ruthless, with reports of armed police attacking and beating peaceful protesters and seriously injuring many more, and in Southern Mongolia China continues to force ....

<details>...

China fences in its nomads, and an ancient life withers



... "The idea that herders destroy the grasslands is just an excuse to displace people that the Chinese government thinks have a backward way of life," said Enghebatu Togochog, the director of the Southern Mongolian Human Rights Information Center, based in New York. "They promise good jobs and nice houses, but only later do the herders discover these things are untrue." In Xilinhot, a coal-rich swath of Inner Mongolia, resettled nomads, many illiterate, say they were deceived into signing contracts they barely understood. Among them is Tsokhochir, 63, whose wife and three daughters were among the first 100 families to move into Xin Kang village, a collection of forlorn brick houses in the shadow of two power plants and a belching steel factory that blankets them in soot. In 2003, he says, officials forced him to sell his 20 horses and 300 sheep, and they provided him with loans to buy two milk cows imported from Australia. The family's herd has since grown to 13, but Tsokhochir says falling milk prices and costly store-bought feed means they barely break even. An ethnic Mongolian with deeply ....

<details>...

XII UNPO GA Adopts General Resolution and Elects New Presidency



... After having declared the final day of UNPO's XII General Assembly open, UNPO President Mr Ngawang Choephel gave the floor to Mr Enghebatu Togochog, the Head of Delegation of Southern Mongolia, to present the General Resolution draft as prepared by the Drafting Committee. Subsequently, through the mediation of the President, Members had the opportunity to provide input and suggestions for amendments to specific articles of the Resolution. An additional article was added to the draft, addressing regional organizations and their need to protect and promote human rights. Following the amendments and adoption of the final version of the General Resolution, the Head of Delegation of the Afrikaners, Dr Pieter Groenewald, presented the nominations for the new Presidency: Tibet, Taiwan, East Turkestan, Crimean Tatars, Iranian Kurdistan, Afrikaners, Khmer Krom, Oromo and West Papua. As no alternative list had been put forth, and the aforementioned list had received the required majority of support, the composition of the new Presidency was declared as such. Mr Nasser Boladai ....

<details>...

Resolution on Southern Mongolia presented to UNPO General Assembly



... In addition to these egregious policies, there are also the cases of several prominent political prisoners, particularly the case of Mr. Hada and his family members. Mr. Hada was arrested in 1995 and sentenced to 15 years in jail. He was placed under another 4 years of extrajudicial detention after he completed his 15 years' jail term in December 10, 2010. Last December, he was released from this detention. However, he is still under house arrest, without any freedom of communication or freedom of movement. Another is the case of Ms. Huuchinhuu, who was arrested in November 2011 for rallying the Mongolians over the Internet to welcome Hada, who was expected to be released on December 10, 2010. She was detained for more than a year before she was placed under house arrest. She has a serious health problem. Considering the aforementioned deteriorating human rights conditions, we drafted the following resolution on the situation in Southern Mongolia. We urge the Unrepresented Nations and Peoples Organization (UNPO) to work with the European Union (EU) to pressure the Chinese ...

<details>...