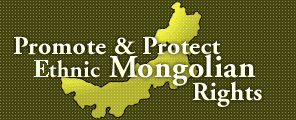 To gather and distribute information concerning Southern (Inner) Mongolian human rights situation and general human rights issues;

To promote and protect ethnic Mongolians' all kind of rights such as basic human rights, indigenous rights, minority rights, civil rights, and political rights in Southern Mongolia;

To encourage human rights and democracy grassroots movements in Southern Mongolia;

To promote human rights and democracy education in Southern Mongolia;

To improve the international community's understanding of deteriorating human rights situations, worsening ethnic, cultural and environmental problems in Southern Mongolia;

Ultimately, to establish a democratic political system in Southern Mongolia.


"The nature of the Inner Mongolian authorities' 'stability maintenance' is itself against the law"



... Today is September 20, 2014. In recent days, the persecution against us by the Inner Mongolian authorities has escalated. In addition to nonstop intimidation and harassment, the persecution has been escalated to threaten our attorney and deny our right to visit Hada. In late August, the Inner Mongolian authorities had two officials from the Political and Legal Affairs Committee and the Public Security Bureau make a special trip to Beijing by plane to threaten our attorney Khas, stating that I would be arrested soon due to a new crime I have committed. They claimed that Khas would also be liable for his actions in masterminding the scheme. Their statement was extremely strong and arrogant. A few days earlier on September 16, when my son Uiles asked to visit his father Hada, the State Security Squad of the Inner Mongolia Public Security Bureau, that are responsible for imprisoning Hada, blatantly denied my son's legal right to visit his father. The reason they gave was that I published posts on the Internet making the higher-ups unhappy. This "black jail" where Hada is held is a place that is particularly lawless ....

<details>...

Factories investigated for 'emptying waste water into Inner Mongolia desert'



... Authorities in Inner Mongolia are investigating reports that illegal industrial waste water is once again being discharged into the southern Tengger Desert. Experts fear the pollution could permanently damage groundwater sources. Citing an official at Tengri industrial park, The Beijing News reported the park and the local Alxa League government were investigating. According to a report in the paper at the weekend, chemical engineering factories at Tengri industrial park had been pumping polluted water into the desert. The official, surnamed Chen, told the paper local authorities had closed 15 factories in 2012 after state television unveiled a similar case. But a lack of supervision by local authorities might have allowed the problem to reoccur, Chen said. Despite extensive media coverage of the scandal two years ago, several waste-water ponds were found in the desert, each larger than a soccer pitch, when reporters from the Beijing-based newspaper visited the area. Sections of pipes linking the ponds to the factories could be seen, while the rest were covered in sand, the paper said. The inky-coloured water had a ....

<details>...

Rare birds die en masse near sewage lake in Inner Mongolia



... Industrial pollution is behind the deaths of tens of thousands of birds on the pasture of Uxinzo town of north China's Inner Mongolia Autonomous Region, the Beijing Times reported. An industrial park was built in the town ten years ago that discharges sewage directly into the Tsagaan Nuur Lake, through a huge pipe buried underground, according to local herdsmen.To ensure that nobody would get close, the park owners sent people to stand in the two roads leading to the sewage outlet during the daytime. However, when there were no guards at night, many herdsmen saw sewage water run into the lake. According to the herdsmen, the smell from the water was overpowering. In July, tens of thousands of birds were found dead in the area, many of which were rare birds under the national level protection. Some herders said that government authorities had sent people to collect and bury the dead birds at intervals. Herdsman Bulgoude said that the environment has been deteriorating over the years. Many wild birds and plants have died, and the underground water level has drawn down. Local residents have to ....

<details>...

Chinese railway employee fired for hate prejudice and racism against Mongolians



... Ms. Zhou Zheng, a Chinese employee of Inner Mongolia Ji Tong Railway (Group) LLC., was fired on September 1, 2014 on the heels of strong protests by Southern (Inner) Mongolian netizens opposing her online messages spouting racial hatred toward the Mongolians. On August 29, 2014, Zhou Zheng posted a message on the Chinese web chat social media Wei Xin stating that "Yes, I hate pure Mongolians. They don't understand human language, because they are all animals. This breed should be destroyed by humanity," followed by an icon of a little girl holding a gun and saying "go to hell". Angry Southern Mongolians circulated messages on Chinese social media outlets including Wei Xin, Teng Xun and Xin Lang microblogs as well as Face Book and Twitter, rallying Mongolians to stand up against hate prejudice and racism and dehumanization of the Mongolian people as a whole. "Railway worker Zhou Zheng, nicknamed 'Zhoug Zihang', is publicly insulting all of our fellow Mongolians. As a Mongolian I am shocked to see her posts, and here I am expressing my anger and protest! She is in fact stirring up ethnic conflict! Bloody ...

<details>...