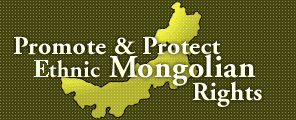 To gather and distribute information concerning Southern (Inner) Mongolian human rights situation and general human rights issues;

To promote and protect ethnic Mongolians' all kind of rights such as basic human rights, indigenous rights, minority rights, civil rights, and political rights in Southern Mongolia;

To encourage human rights and democracy grassroots movements in Southern Mongolia;

To promote human rights and democracy education in Southern Mongolia;

To improve the international community's understanding of deteriorating human rights situations, worsening ethnic, cultural and environmental problems in Southern Mongolia;

Ultimately, to establish a democratic political system in Southern Mongolia.


Presentations of SMHRIC representatives at 10th Interethnic Interfaith Leadership Conference



... As someone concerned about progress towards a brighter China, you are cordially invited to participate in the 10th Annual Interethnic/Interfaith Leadership Conferences, to be held in Washington, D.C., USA on April 27-30. Founded by Initiatives for China, with guidance of His Holiness the Dalai Lama and financial support of the National Endowment for Democracy, the Conference seeks to advance mutual understanding, respect, and cooperation among the diverse ethnic, religious, cultural, and regional groups seeking a better China. It also aims to promote universal values and a common front to advance democracy and human rights for all. The groups represented in the Conference will include Han Chinese, Tibetans, Uyghurs, Mongolians, Christians, Falun Gong practitioners, Muslims, Buddhists, and people from Taiwan, Hong Kong and Macau. These conferences are the first time in history that leaders from these ethnic, religious, and regional groups have come together without coercion, to stand up together without fear and hesitation. Conference Location: The National 4-H Youth Conference Center 7100 Connect ....

<details>...

In China, a tug of war over coal gas: Cleaner air but worse for the climate



... Amid the rolling grasslands of northern China, a gleaming new industrial complex offers a beguiling vision for the nation's leaders. Here, on a sandy plain among scattered flocks of sheep, a flagship plant promises to use China's surplus coal while simultaneously delivering cleaner skies over its crowded eastern cities. Modeled on a similar and much older plant in North Dakota, the Hexigten complex in China's Inner Mongolia transforms coal into methane by treating it with heat, steam and oxygen. It then pipes the supposedly cleaner gas to Beijing to heat and power the capital's homes. In the past two years, with anger over the country's smoggy skies rising and demand for coal declining, China has enthusiastically embraced coal gasification. It has proposed to build more than 50 plants like this in its sparsely populated north and west and to create by far the largest synthetic natural gas (SNG) industry in the world. Although the enthusiasm has since waned somewhat — mainly over questions about the industry's economic viability — coal gasification still has powerful backers. But a visit to the semi-arid grasslands of the Asian ....

<details>...

China denies ethnic Mongolian dissident a passport to seek medical help



... Chinese authorities in Inner Mongolia have refused an application by ethnic Mongolian dissident Hada and his son for a passport, to travel overseas to seek medical attention, he told RFA on Thursday. Veteran rights activist Hada, 60, was released from extrajudicial detention in December, four years after his 15-year jail term for "separatism" and "espionage" ended, with numerous health conditions developed during his sentence. Hada, who suffers from systemic atherosclerosis and liver disease and other conditions he says are a result of years of corporal punishment and abuse in prison, was informed by officials in his home city of Hohhot that they had declined his application for a passport, he said on Thursday. "I am seriously ill, and I want to go overseas to seek medical treatment, but the colonial authorities won't issue me with a passport," Hada told RFA. "This is against domestic laws and international law." "I call on the United Nations to urgently help me to resolve the problem of my passport so I can leave the country to get treatment," he said. Hada was released by Chinese authorities to a police ...

<details>...

In China's Inner Mongolia, mining spells misery for traditional herders




... When the wind blew in their direction, smoke and dust from a huge aluminum smelter would drift across the grasslands where herders had grazed their flocks for generations in China's Inner Mongolia. A few years after the smelter opened, herders in the area said that their sheep began falling sick, with jaws so painful that they could not eat. Soon, thousands of their animals had died. When they complained, the government simply arrested five of their leaders and forced the others to resettle in the nearby city of Holingol, demolishing their original homes. The vast, wind-swept grasslands of Inner Mongolia have been home to nomadic pastoralists for thousands of years, but the rich resources that lie under these rolling prairies have proved a curse to the people who have long called this land their home. A boom in mining and mineral industries has polluted the grasslands, marginalized herders and pushed them from their homes. Now, a fall in coal and gas prices could spell more pressure on government spending and more misery for herders. Seventy-five-year-old Du Shaocai was moved from her grasslands home to a ....

<details>...