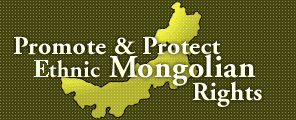 To gather and distribute information concerning Southern (Inner) Mongolian human rights situation and general human rights issues;

To promote and protect ethnic Mongolians' all kind of rights such as basic human rights, indigenous rights, minority rights, civil rights, and political rights in Southern Mongolia;

To encourage human rights and democracy grassroots movements in Southern Mongolia;

To promote human rights and democracy education in Southern Mongolia;

To improve the international community's understanding of deteriorating human rights situations, worsening ethnic, cultural and environmental problems in Southern Mongolia;

Ultimately, to establish a democratic political system in Southern Mongolia.


In China's Inner Mongolia, mining spells misery for traditional herders




... When the wind blew in their direction, smoke and dust from a huge aluminum smelter would drift across the grasslands where herders had grazed their flocks for generations in China's Inner Mongolia. A few years after the smelter opened, herders in the area said that their sheep began falling sick, with jaws so painful that they could not eat. Soon, thousands of their animals had died. When they complained, the government simply arrested five of their leaders and forced the others to resettle in the nearby city of Holingol, demolishing their original homes. The vast, wind-swept grasslands of Inner Mongolia have been home to nomadic pastoralists for thousands of years, but the rich resources that lie under these rolling prairies have proved a curse to the people who have long called this land their home. A boom in mining and mineral industries has polluted the grasslands, marginalized herders and pushed them from their homes. Now, a fall in coal and gas prices could spell more pressure on government spending and more misery for herders. Seventy-five-year-old Du Shaocai was moved from her grasslands home to a ....

<details>...

One reported dead after pollution protest in northern China



... One person died and 50 were arrested after some 2,000 police, using rubber bullets, tear gas and water cannons, put down a protest by villagers against pollution from a chemical plant in China's Inner Mongolia, an overseas human rights group said.Inner Mongolia has seen sporadic unrest since 2011 when the vast northern region was rocked by protests after an ethnic Mongol herder was killed by a truck after taking part in demonstrations against pollution caused by a coal mine. Ethnic Mongols, who make up less than 20 percent of Inner Mongolia's 24 million population, say their grazing lands have been ruined by mining and desertification and that the government has tried to resettle them in permanent houses. Coal rich Inner Mongolia is supposed to enjoy a high degree of self-rule, but many Mongols say the Han Chinese majority has been the main beneficiaries of economic development In the latest incident, villagers in Naiman Banner took to the streets to protest against a chemical processing zone they said was polluting farmland and grazing land, the New York-based Southern Mongolian Human Rights Information Centre said ....

<details>...

2000 police mobilized, 100 people injured, 50 arrested, 1 killed, Internet cut off, and highways shutdown in Naiman Banner of Southern Mongolia



... After a three-week standoff, on April 4, 2015, more than 2,000 Chinese riot police have been mobilized to crack down on the villagers of Daachin-tal ("da qin ta la" in Chinese) Township and nearby villages in eastern Southern (Inner) Mongolia's Naiman Banner ("nai man qi" in Chinese, a banner is equivalent to a county). The villagers have been staging a protest against the Naiman Chemical Refinery Zone for polluting the area with toxic waste. Video clips of the protest scene received by the Southern Mongolian Human Rights Information Center (SMHRIC) show Chinese riot police chasing Mongolian villagers on April 5, 2015. Gunshots are heard sporadically. Photos and video footage show that many villagers were beaten, injured, and hospitalized on April 4, 2015 during the clash between more than 1,000 villagers and 2,000 riot police. "Rubber bullets are being shot at protesters, and high-pressure water guns and tear gas are also being used," Ms. Geegee, a Mongolian woman from the community, told SMHRIC over the phone. "Yesterday, about 100 people were injured and 50 were arrested. One of the injured ....

<details>...

'Mongolians in China are not free'



... At about the same time last year, another ethnic Mongolian man from Inner Mongolia, Hada (61), was released from detention after spending most of the last 20 years in jail. He was arrested and jailed in 1996 for inciting separatism, spying and supporting the Southern Mongolian Democratic Alliance (SMDA). But the story about the freeing of Hada, one of China's longest-jailed political prisoners — whom rights group Amnesty International had called a "prisoner of conscience" — received zero attention from Chinese media. According to Hada, the reason could be the fact that the authorities do not want the Chinese to hear his story. "The main objective (of the Chinese authorities) during the 19 years I was in prison was to force me through physical and mental torture to admit to the alleged crimes. As a result, I became physically disabled, suffering from multiple complications. All kinds of torture methods, including use of toxic drugs, were applied to break me down mentally — so I would be forced to write some statements of their choosing. On two occasions, I was placed under solitary confinement for 99 days," ...

<details>...