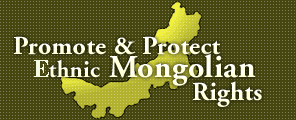 To gather and distribute information concerning Southern (Inner) Mongolian human rights situation and general human rights issues;

To promote and protect ethnic Mongolians' all kind of rights such as basic human rights, indigenous rights, minority rights, civil rights, and political rights in Southern Mongolia;

To encourage human rights and democracy grassroots movements in Southern Mongolia;

To promote human rights and democracy education in Southern Mongolia;

To improve the international community's understanding of deteriorating human rights situations, worsening ethnic, cultural and environmental problems in Southern Mongolia;

Ultimately, to establish a democratic political system in Southern Mongolia.


Namulun Togochog and Dulaan Borjigin speak at the Human Rights Day rally in front of the United Nations Headquarters




... Merely a year after this monumental declaration, Communist China occupied Southern Mongolia by force and established an oppressive colonial regime. During these 72 years of colonial occupation, not only was the right of self-determination of the six million Southern Mongolians completely taken away, but the most basic human rights and fundamental freedoms of these Mongolians have been denied. Today, learning and using their mother tongue and practicing their traditions and way of life have become a crime in Southern Mongolia. Especially since last September, the Chinese colonial regime has become increasingly more oppressive, outlawing everything with Mongolian characteristics. The Mongolian language has been removed from all schools and educational systems; Mongolian books and publications are banned altogether; street signs, buildings and sculptures with even the smallest hints of Mongolian identity have been summarily smashed; being Mongolian itself is a crime in Southern Mongolia. I would like to remind the free and democratic world that this is nothing but cultural genocide, aiming at the total erasure of the Mongolian people and the Mongolian nation from Southern ....

<details>...

Tsolmongerel Khatgin speaks at the 4th Geneva Forum




... What is happening in Tibet seems to be a part of China's broader campaign of wiping out so-called "minority language" to promote Chinese as the single "common language" across China. In Southern Mongolia, the official euphemism of this campaign is "Second Generation Bilingual Education". Starting last September, the medium of instruction has been switched from Mongolian to Chinese in all Mongolian schools, sparking a region-wide mass protest. After cracking down on the protest, what the Government of China is implementing in Southern Mongolia is full-blown cultural genocide, aiming to eradicate the national identity of the entire Southern Mongolian population. "Speak Chinese and Become a Civilized Person" is the official slogan publicly advertised everywhere in Southern Mongolia, from TV broadcast to street billboards, from classrooms to rural villages. Everything with Mongolian characteristics is targeted. Signs in Mongolian are taken down; sculptures of Mongolian history are smashed; Books and publications in Mongolian are banned and confiscated. All these are part of China's greater effort to "Firmly Inculcate the Chinese Nationality (zhong hua min zu) Common Identity" into the population ....

<details>...

G20 – Boycott of Beijing 2022: Open letter to G20 ahead of G20 Summit on 30-31 October 2021




... We, a coalition of over 240 global campaign groups representing Tibetans, Uyghurs, Hongkongers, Chinese, Southern Mongolians, Taiwanese, and other affected and concerned communities. We are writing to you, ahead of the G20 Summit concerning the Beijing 2022 Winter Olympic Games, to urge for a joint diplomatic boycott of the Games in light of China's extreme and worsening human rights situation. The attendance of world leaders and diplomats at the Beijing 2022 Winter Olympic Games will put governments at serious risk of being complicit in China's plan to 'sport wash' their human rights abuses and embolden the actions of the Chinese authorities. As you descend on the G20 Summit we urge you to take the opportunity to commit to taking strong multilateral action by way of a joint diplomatic boycott of the 2022 Beijing Winter Olympic Games. The Chinese government has publicly stated that Beijing 2022 will be "open and inclusive", create a "harmonious world" and promote "social progress" – just as it did ahead of the Beijing 2008 Summer Games, but to no avail. For those living under China's oppressive rule, daily life is anything but; it is instead characterized by a merciless crackdown on individual and ....

<details>...

Cultural assimilation of Mongolians in China: "We could be the next Uyghurs"




... After Tibet and Xinjiang, Beijing is now looking to Inner Mongolia. The autonomous region in China has a strong local culture, at risk of being assimilated into the Han ethnic majority. While there are no reports of internment camps or mass arrests, Mongolian activists say they have been witnessing the first signs of forced assimilation, including the sidelining of the local language, the destruction or banning of cultural symbols, and the introduction of patriotism classes. In Mongolian elementary and middle schools, students were able to receive an education in their local language until September 2020, when a new policy called for compulsory literature, history and political science courses to be taught in Chinese. This policy also called for students to begin learning Mandarin Chinese one year earlier than in their previous curriculum. The Inner Mongolian Ministry of Education announced that some of these reforms would be tightened at the start of the school year in September 2021, with new measures including the removal of books on Mongolian history and culture from all primary and secondary education. For many Mongolians, this is the first step in the forced disappearance of their cultural ....

<details>...