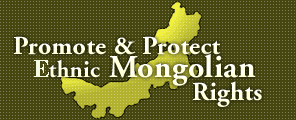 To gather and distribute information concerning Southern (Inner) Mongolian human rights situation and general human rights issues;

To promote and protect ethnic Mongolians' all kind of rights such as basic human rights, indigenous rights, minority rights, civil rights, and political rights in Southern Mongolia;

To encourage human rights and democracy grassroots movements in Southern Mongolia;

To promote human rights and democracy education in Southern Mongolia;

To improve the international community's understanding of deteriorating human rights situations, worsening ethnic, cultural and environmental problems in Southern Mongolia;

Ultimately, to establish a democratic political system in Southern Mongolia.


Two Mongolian activists sentenced to jail for defending herders' rights




... On June 5, 2020, the People's Court of Heshigten Banner of Southern (Inner) Mongolia tried two Mongolian activists, Mr. Tsogjil and Mr. Haschuluu, who organized local Mongolian herders to protest the government's illegal appropriation of their grazing land. Jail sentences of eight months and four months were handed down to Tsogjil and Haschuluu respectively for "rallying the public to petition the government, obstructing official business, videotaping and posting untrue stories, and transferring edited video footage to foreign organizations." "Defendant Tsogjil, male, born on March 4, 1979" and "defendant Haschuluu, male, born on October 23, 1978" were sentenced for "picking quarrels and provoking trouble," according to the criminal verdict issued by the Heshigten Banner People's Court. "Criminal tools used: one long banner and one cellular phone that were already confiscated," the verdict added. "They are totally innocent," Mr. O. Sechenbaatar, who himself was released from a year of house arrest recently after being detained for two weeks for supporting the protest in the neighboring Ongiuud Banner, said in an audio statement. "What they did was nothing but to legally file complaints about the local ....

<details>...

Herder protest government land grab, nearly 200 arrested




... On the morning of June 1, 2020, more than 400 Mongolian herders from Bayan-uul Sum (a sum is an administrative unit equivalent to township) of Southern (Inner) Mongolia's Bairin Left Banner ( a banner is an administrative unit equivalent to county) marched toward the banner capital Lindong City in protest of the local government's land grab in the name of nature conservancy. Nearly 200 were arrested on their way to the banner government by local police and SWAT teams. Many were pepper sprayed and beaten before being detained. Bayan-uul Sum, located on the northern edge of Bairin Left Banner, has a piece of relatively well-preserved natural grassland where local Mongolian herders have struggled to maintain their traditional pastoralist way of life. "This February, the banner government notified us that a national nature conservancy will be established on our grazing land," a local herder named Geeligbuyan told the Southern Mongolian Human Rights Information Center. "Herders from all 13 Gachaa of Bayan-uul Sum sent representatives twice to the regional capital Hohhot to express our protest." "We learned that the Autonomous Region Party Secretary Shi Taifeng is on an inspection tour to ....

<details>...

82 organizations petition against China's appointment to the Consultative Group of UN Human Rights Council




... Your Excellency, we, the undersigned 82 organizations and associations write this joint letter to express our profound disappointment over the appointment of Mr. Jiang Duan, Minister at the Permanent Mission of the People's Republic of China, to the Human Rights Council's Consultative Group from 1 April 2020 to 31 March 2021. The consultative group which play a key role in the appointment of independent human rights experts under special procedures of the UN Human Rights Council is expected to be composed of States that promote and protect the existing UN human rights mechanisms. On the contrary, the appointment of China to the consultative group from Asia-Pacific region undermines everything that the UN Human Rights Council represents and strives for. Special procedures have played a pivotal role in bringing to fore the ground realities of human rights violations in many States including China. Mr. Jiang's appointment will, undoubtedly, give China an influential say over the screening and selection process of the independent human rights experts under various special procedures throughout the fourteenth cycle of the UN Human Rights Council. With this appointment, China will be able to weaken the 17 ....

<details>...

China Uncensored: How China Colonized Half of Mongolia




... You've heard about the persecution of Tibetans in Tibet, and Uighur Muslims in Xinjiang, but did you know about genocide in what the Chinese regime calls Inner Mongolia? Find out why Mongolia was divided in two, and how China colonized one. Genghis Khan would be rolling in his grave. Welcome to China Uncensored. I am Chris Chappell. The country of Mongolia is famous for its horse-back riding, yurts and throat singing. There is a second Mongolia: Inner Mongolia Autonomous Region which is province of China. It is famous for human rights abuses. Well, not so famous actually for that part of the problem. Mat had sit down with Enghebatu Togochog from the Southern Mongolian Human Rights Information Center to learn more. The Chinese are one of the most racist people I have ever seen or met. The Great wall is the earliest evidence of racial segregation in human history. The Great Wall is the historical boundary between China and Mongolia. It is not only to national boundary between the Chinese and Mongolians but also it is a boundary between the two different civilizations, two different climates and two different way of life. Qing dynasty was not a Chinese empire. It was joint rule of Manchu and ....

<details>...