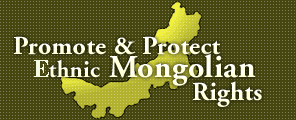 To gather and distribute information concerning Southern (Inner) Mongolian human rights situation and general human rights issues;

To promote and protect ethnic Mongolians' all kind of rights such as basic human rights, indigenous rights, minority rights, civil rights, and political rights in Southern Mongolia;

To encourage human rights and democracy grassroots movements in Southern Mongolia;

To promote human rights and democracy education in Southern Mongolia;

To improve the international community's understanding of deteriorating human rights situations, worsening ethnic, cultural and environmental problems in Southern Mongolia;

Ultimately, to establish a democratic political system in Southern Mongolia.


Activists face imprisonment and police stations in schools




... Following the massive civil disobedience movement in Chinese-occupied Southern Mongolia sparked by the Chinese Central Government's renewed attack on the Mongolian language, the authorities' crackdown has intensified. An estimated 8,000–10,000 Southern Mongolians have been placed under some form of police custody since late August. The punitive measures the Chinese authorities have taken to put down the resistance include mass arrest, arbitrary detention, forced disappearance, imprisonment, house arrest, "concentrated training", termination of employment, removal from official positions, blacklisting and expulsion of students, suspension of social benefits, confiscation of properties and denial of access to financial resources including bank loans. Wanted posters and detention notices from Public Security authorities, official notices, and warnings have been issued—separately and jointly—by various authorities, including local governments, communist party committees, communist youth leagues, people's courts, people's procuratorates, judiciary branches, educational bureaus and schools at all levels as part of the authorities' desperate attempt to contain the protest. "The Chinese regime ....

<details>...

A statement of solidarity with the people of Southern Mongolia




... The Committee on the Present Danger: China decries the Chinese Communist Party's latest act of aggression against the Captive Nation of Southern Mongolia. The CCP's mandate to replace instruction in the Mongolian language with Mandarin Chinese in all Mongolian schools demonstrates the Party's determination to impose not merely communism upon captive peoples, but to destroy the cultural ties that unite them. By doing so, Beijing has added to its already long list of deplorable infringements on the lives and dignity of the Southern Mongolian people. These include: severe predations of Han supremacism-driven repression of the native Mongol population; the expropriation of its property; ethnic-cleansing; destruction of the environment; and persistent attempts at cultural eradication. By seeking to eliminate the Mongol language, the Chinese Communists seem bent next on the unchecked extermination of those who speak it. To their credit, Southern Mongolians are standing up to the CCP by courageously engaging in mass protests of its so-called "Second Generation Bilingual Education" - a deliberately misleading descriptor designed to obscure the true purpose of this policy: namely, the complete ....

<details>...

Southern Mongolia turns to police state as full-blown cultural genocide unfolds




... As the nationwide school boycott enters its third week in Chinese-occupied Southern Mongolia, the Chinese Government is turning the entire region into a police state. At least eight Mongolians have lost their lives, and thousands have been arrested in protest of China's latest cultural genocide campaign carried out in the name of "second generation bilingual education." In a desperate move to bring Mongolian children to school, the Chinese authorities mobilized a vast army of police, SWAT teams, plainclothes officials, and interim social workers to terrorize the entire Mongolian populace. Arbitrary arrest, extrajudicial detention, forced disappearance, and house arrest are so widespread that the Southern Mongolian Human Rights Information Center estimates at least 4,000 to 5,000 Mongolians have been placed under some form of police custody during the past three weeks. These individuals include prominent dissidents and their family members, writers, grassroots activists, herders leaders, recent protesters, and netizens. "Massive student hunts are sweeping the region. Even in the remotest rural communities, police presence is so heavy," a Mongolian parent said in an audio statement. "The entire ....

<details>...

S

tudents escape from locked-down school as resistance continues




... As the region-wide nonviolent civil disobedience continues in Chinese-occupied Southern Mongolia, in protest of the Chinese Central Government's recent decision to replace Mongolian with Chinese as the only medium of instruction, Mongolian students whom the Chinese authorities gathered and confined in the schools are starting to escape. On September 9, more than 30 Mongolian second and third graders escaped from Shuluun-Huh Middle School in central Southern Mongolia's Shiliin-gol League. According to recorded messages and other communications from parents and eyewitnesses, most of these Mongolian students are children of government officials, Chinese Communist Party members and teachers and were taken to school by force. After an hour of sweeping search by the local police, school authorities and parents, they were found in a mountain near the Banner capital. "They managed to escape by climbing over three-meter-tall walls with barbed wire fences," a parent said in an audio message. "These students have their own opinion too. You cannot keep these rebellious kids in fences." "In Uushin Banner, some elementary school first graders who were forcefully taken to school are refusing ....

<details>...